The antisemitic move says everything about Roger Waters and his staff (and those who cheered), and nothing about the Jewish state. When irrational hate spewing vitriol is being spewed/promoted, look more closely at the person dishing it out, not at the intended target.
NOTE: The extremist coward would never use any Islamic symbols, just easier targets like the Jews, they don't issue fatwas.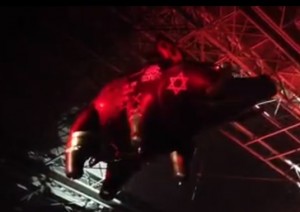 Anti-Semitic display at Roger Waters concert
Pig-shaped balloon with Star of David alongside fascist symbols released during British musician's concert in Belgium. 'I really love his music,' says Israeli viewer, 'but this time he crossed the line'
Eldad Beck
On Saturday night, Israelis were among those who attended a British musician and former Pink Floyd frontman Roger Waters' concert in Belgium. Even as Waters is a known activist pushing for the boycott of Israel, Israelis were still amazed to see that the show included a blatantly anti-Semitic display.
Toward its end, a black balloon in the shape of a wild pig was released to the sky, on it a Star of David, in the company of symbols of dictatorial organizations and regimes from around the world.