Well, abortion is in fact,…. butchery.
It's obvious that many of these people resigning from the church over the words of a politician needed very little prodding.
"Animal protection law grants better protection to animals than the law on abortion gives to unborn children. Animals may not be slaughtered in a painful manner, but it's not permitted to even discuss the painfulness of abortion," Räsänen said in her address in Kankaanpää.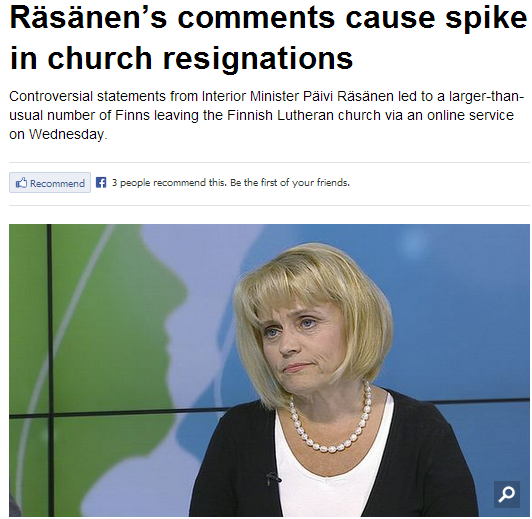 On a normal day fewer than a hundred people resign from the church using the eroakirkosta.fi website.
On Wednesday the figure was 960, after Christian Democrat leader and Interior Minister Päivi Räsänen made a controversial speech including comments comparing abortion to 'butchery' and suggesting people should place the bible above the law in any situations where they might conflict.
Members of Finland's established religions pay a church tax of around one percent of their income. The figure depends on their home parish. Since 2003 people have been able to leave the church online, and the number of resignations has risen dramatically. Before that those doubting their faith had to speak to a priest before they were permitted to leave the church.