He's right, but 'peanuts' still doesn't get it.
This joker, who represents everything in statist government, is part and parcel one of the contributors to US political decline. He's a big government statist, as well as being a stooge for UN involvement in US affairs. Democrat statists as well as neo-statist Republicans, who have for the past 100 years sought ways to jettison the constitutional republic (small d democracy) away from its mooring, the U.S. founding document, the constitution.
It's as Mark Levin says, the U.S. is a post constitutional phase, has been for awhile, getting a brief respite during the Reagan years, only to lurch back to statism during Bush sr., Clinton and Bush jr., now its on steroids during the most radical U.S. president since (IMO) the racist democrat, Woodrow Wilson.
NOTE: Dufus says the right thing, but can't see the tree for the forest. Also, neither is the EU a functioning democracy nor the many European statist countries that comprise it.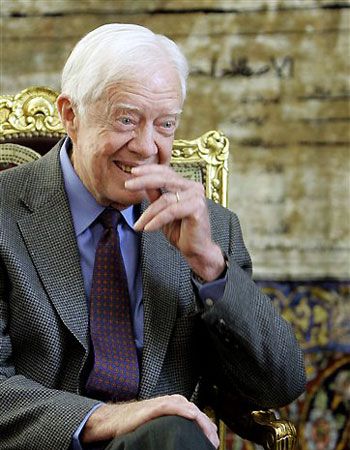 Infowars via Drudge Report:
Former President and Commander-In-Chief: America Is No Longer a Democracy
One of Germany's biggest newspapers – Spiegel – reports:
Former U.S. President Jimmy Carter … in the wake of the NSA spying scandal criticized the American political system. "America has no functioning democracy," Carter said Tuesday at a meeting of the "Atlantic Bridge" in Atlanta.