Read also: EU funding laws are Nuremberg version 2.0
Catheter Ashton, always sticking the EU where it's not wanted.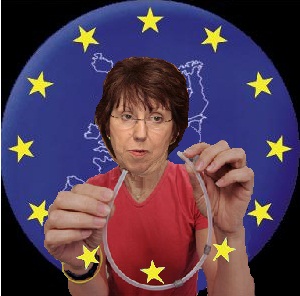 EU worried about decision to limit IDF cooperation over Green Line
Move to stop assistance to Union officials aiding Palestinians seen as retaliation to EU's latest directive
By YOEL GOLDMAN and ADIV STERMAN July 27, 2013, 12:05 am 15
The European Union expressed concern Friday over Defense Minister Moshe Ya'alon's decision to stop IDF cooperation with European Union officials in parts of the West Bank, and to prevent EU representatives from entering the Gaza Strip via Israel.
"The EU is concerned over reports in the Israeli media that the defense minister has announced a series of restrictions affecting the Union's actions to support the Palestinian people," said a spokesperson for EU High Representative for Foreign Affairs Catherine Ashton.
The spokesperson went on to claim that the EU had not received any official notice from Israeli authorities regarding the planned measures.
"A delegation is working [in Israel] to attain these urgent updates," the spokesperson added.
Ya'alon's orders were an apparent response to new EU guidelines published last week that explicitly ban the funding of and cooperation with Israeli institutions operating beyond the Green Line.
H/T Brian of London