Don't think for a moment that they haven't squirreled away many more assets untouchable by the military junta. I'm sure that they've learned that much from the decades of living under the steel rod of Mubarak. I'm glad however for the return of the steel rod, the fanatics unfortunately can't be controlled any other way.
H/T: Fjordman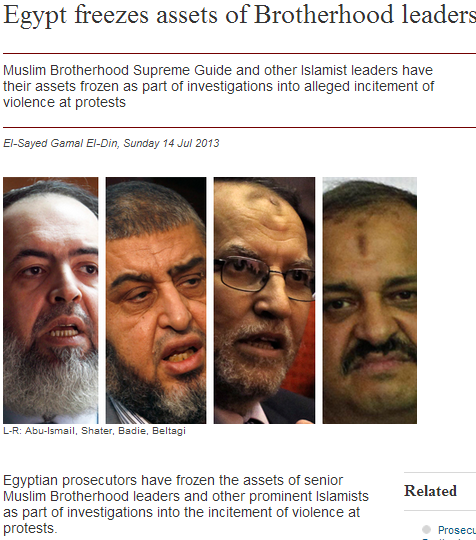 Muslim Brotherhood Supreme Guide Mohamed Badie, deputy leader Khairat El-Shater, Secretary General Ezzat Ibrahim and senior member Mohamed El-Beltagy were among 14 prominent Islamists targeted by the decision.
As were Freedom and Justice Party leader Saad El-Katatni and Vice President Essam El-Erian, Islamist preacher Safwat Hegazy, Islamist Wasat Party Vice President Essam Sultan, Salafist former presidential candidate Hazem Salah Abu-Ismail, and Mohamed El-Omda, a former MP closely allied to the Brotherhood in recent months.