These are some ingenious ways to flip it back into the faces of these antisemites of the EU.
How to respond to EU sanctions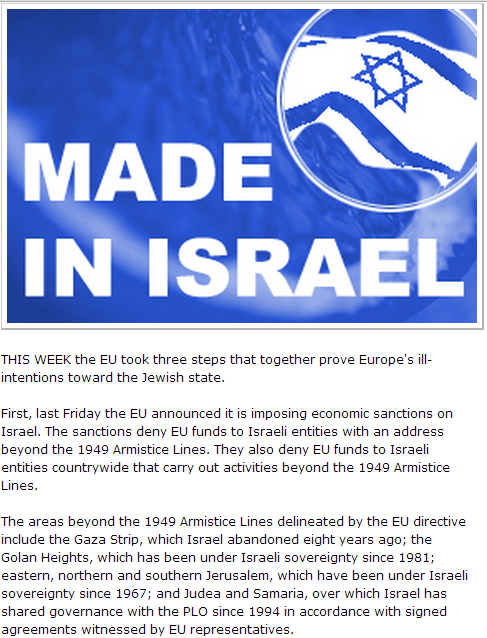 […]
Europe is using economic sanctions to expand its political power over Israeli decision-makers. So Israel should act to diminish Europe's political power in Israel.The EU itself told Israel how to go about doing this in Paragraph 15 of the sanctions directive.
It reads, "The requirements [banning the transfer of EU funds to Israeli entities operating beyond the 1949 armistice lines]… do not apply to activities which, although carried out in the territories…aim at benefiting protected persons under the terms of international humanitarian law who live in these territories [i.e., the Palestinians] and/or at promoting the Middle East peace process in line with EU policy."
[…]
TO STEM THE momentum of Europe's new economic war, Israel's first response to the EU's sanctions must be swift passage in the Knesset of a law requiring all Israeli entities that agree to operate under the EU's funding guidelines to register as foreign agents and report all EU contributions.
Those contributions should be taxed at the highest corporate tax rate.
EU officials have stated repeatedly that they seek to undermine Israeli control over Area C. Area C is the area of Judea and Samaria where, in accordance with agreements signed between the PLO and Israel, Israel exercises most civil and military authorities. The EU is funding projects in Area C whose stated goal is to make it impossible over time for Israel to assert its authority over the area.
Israel's second response to the EU's announcement of economic sanctions on Israeli economic activity in Judea and Samaria should be to suspend all EU projects in Area C. Future EU projects should be subject to intense scrutiny by the civil administration. Israel's default position should be to reject, rather than approve, such requests, given their hostile intent.