I've mentioned before about the choice of the EU hacks that run this despotic "democratic" tyranny, to name only the 'military wing' of the Hezbollah as a terrorist organization, stating:
The 'military wing' of Hezbollah is part and parcel of the same entity, there are no separate autonomous institutions within Hezbollah (and the Hamas terror organization), anymore than there were separate autonomous units within the Al Capone mob in Chicago. The bribing of officials and social services to communities in the areas of the mob's influence stemmed from the same office that ordered acts of violence.
I still stand by those words, and offer anyone disagreeing with me that opportunity to leave their opinions in the comments.
Why should this be of urgent concern to the United Nations? Because, as Glaser highlighted, Hezbollah is no mere parochial threat. Since it was created in the early 1980s as a Lebanese offshoot of Iran's Islamic revolution, its networks, fund-raising rackets, terrorist plots, and killings have long been global — earning it the nickname in Washington, "the A-team of terrorism."

Today, Hezbollah infests every continent — with the possible exception of Antarctica. And its lethal schemes are only growing more frequent: Just this May, the U.S. State Department reported that "Iran's state sponsorship of terrorism and Hizballah's terrorist activity have reached a tempo unseen since the 1990s, with attacks plotted in Southeast Asia, Europe and Africa."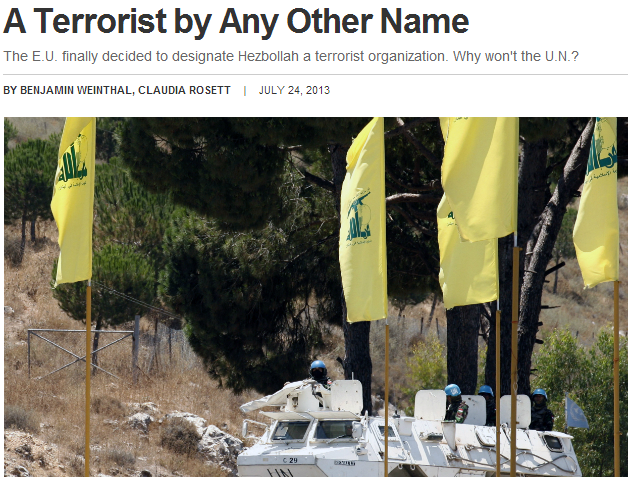 It has now been a year since Hezbollah operatives blew up a tour bus in Burgas, Bulgaria, killing five Israeli tourists and their Bulgarian bus driver, including a pregnant woman. And after an erratic decision-making process, Europe has finally responded: On July 22, the European Union designated Hezbollah's "military wing" as a terrorist entity.
The terror designation ends years of European prevarication on Hezbollah's true nature — and could pave the way for more international efforts to isolate the self-described "Party of God." Britain, which designated Hezbollah's military wing a terrorist group in 2008, spearheaded the E.U. sanctions measure. The new penalties — if enforced aggressively — could lead to travel bans on Hezbollah members and officials visibly connected to military activities, the freezing of its assets in Europe, and a crackdown on the Lebanese Shiite group's recruitment process among Europeans.
But the European Union, compared to many nations, is still going easy on Hezbollah. The party's entire organization is now outlawed by the United States, Canada, Israel, the Netherlands, and Bahrain. By only designating Hezbollah's military wing, the European Union stopped short of dismantling its entire apparatus within its territories. The E.U. decision is designed to stop further Hezbollah terrorist attacks on European turf — but allow Europe to keep the lines open to Hezbollah politicians. Walking this line will be no easy task, and British Foreign Secretary William Hague tried to capture the dilemma on Monday in Brussels: "We have to distinguish as best we can."