How about a Count of Monte Cristo moment for him……..?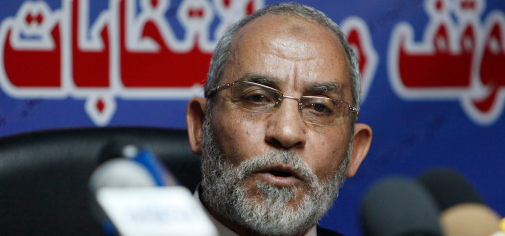 Egypt Muslim Brotherhood leader Mohammed Badie arrest ordered
Egypt's state prosecutor has issued an arrest warrant for the leader of the Muslim Brotherhood, Mohamed Badie, and a number of other senior figures.
Mr Badie is accused of inciting the violence in Cairo on Monday in which more than 50 people were killed.
Many Brotherhood members are already in detention and warrants are said to have been been issued for hundreds more.
It comes as the interim prime minister attempts to form a government after the overthrow of President Mohammed Morsi.
The Brotherhood, to which Mr Morsi belongs, says his ousting by the military a week ago amounted to a coup.
Its supporters have since been staging large protests outside the Rabaa al-Adawiya mosque in the capital, demanding his release from detention and reinstatement.
The movement's political wing, the Freedom and Justice Party (FJP), has said it will not accept an offer to join the cabinet being set up by interim Prime Minister Hazem al-Beblawi, a 76-year-old economist and former finance minister who was appointed on Tuesday.
The arrest warrants could scupper any attempts to persuade the Brotherhood to participate in the transitional political process.