Get this…. bwhahahahahahaha: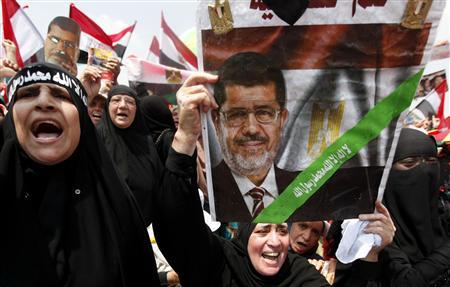 Mursi supporters rally in Egypt, army shows muscle
(Reuters) – Thousands of supporters of deposed Egyptian President Mohamed Mursi rallied in Cairo on Friday to demand the restoration of the ousted Islamist leader, with his opponents also planning protests nearby.
Two formations of fighter jets screamed over the sun-baked city after noon prayers ended. Four army helicopters circled, while another five, trailing Egyptian flags, flew low over Cairo roof tops, in a clear show of strength by the military.
More than two weeks after Egypt's powerful military shunted the contested Mursi from office, there was still no sign of a possible deal to defuse the crisis, which has divided the most populous Arab state and alarmed its Western allies.
The Muslim Brotherhood has called for demonstrations around the country, accusing the head of the armed forces, General Abdel-Fattah al-Sisi, of staging a coup to sweep Egypt's first freely elected president from power.