Conspiracy theories are the center of gab swaps in the Middle East.
Not everyone is convinced by that reasoning, however. For the ousted president's supporters, the return of petrol and electricity is evidence of a plot orchestrated by members of former President Hosni Mubarak's regime, free-market economists and the military. According to the conspiracy theorists, the petrol shortages and power outages were intended to incite anger against the Muslim Brotherhood.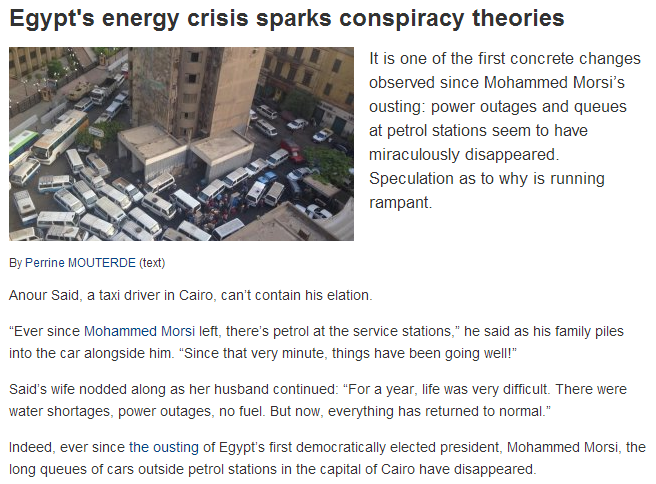 Achraf Hader, the manager of a small service station near Ramses Station (the city's main train station), confirmed the change. "Before the demonstrations on June 30, I had to send two employees to negotiate all night in order for us to have enough petrol, and that didn't always work," he recounted. "Tonight, both pumps are full. And the petrol supplier called to ask if I wanted more!"
'Magic wands don't exist'
Hader is at a loss when it comes to explaining how and why exactly things changed. "It's the question everyone is asking," he mused.
Taxi driver Yasser Mohammed Abdel Ghani has his own theory. "Members of the Morsi regime created the petrol shortage to prevent Egyptians from going to protest on June 30," he said. "But it didn't work. We parked our cars and walked for kilometres to reach the rallying places and voice our anger."
He continued: "Magic wands don't exist. If we all of a sudden have fuel again, it means there never was a shortage. The suppliers were just not delivering – that's the only logical explanation."