My buddy Andy gets at least someone awake over at NRO, a well known conservative news and opinion outlet, lets hope it's just the beginning. The more people wise up to the fact that (anti-western liberal democracy / law) sharia is part and parcel of the Muslim mind and Islamic world, the better they will understand the region.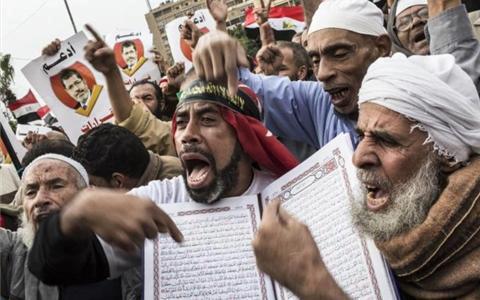 Thanks to an Andrew Bostom blog post over at the American Thinker, I was alerted to the strong Sharia language in the Egypt's new constitutional declaration. It follows:
The Arab Republic Of Egypt is a state whose system is democratic, based on the principle of citizenship; Islam is the religion of the state; Arabic is its official language; and the principles of Islamic Sharia — which include its general evidences, its fundamental and jurisprudential rules, and its recognized sources in the doctrines of the people of the Sunna and Jam'aan (i.e., Sunnism)— are the main source of legislation.
Deposing the Muslim Brotherhood was an important and critical step in halting the spread of jihadist Islam, but we can't look at Egypt with rose-colored glasses. Remember, the more radical Salafist party was the second-largest vote-getter in pre-revolution Egyptian elections, and jihadism has hardly disappeared from Egyptian politics.