The U.N. is a freak show.
Let her go as the rep of one of the many anti-US NGO's out there, not as a representative of the U.S.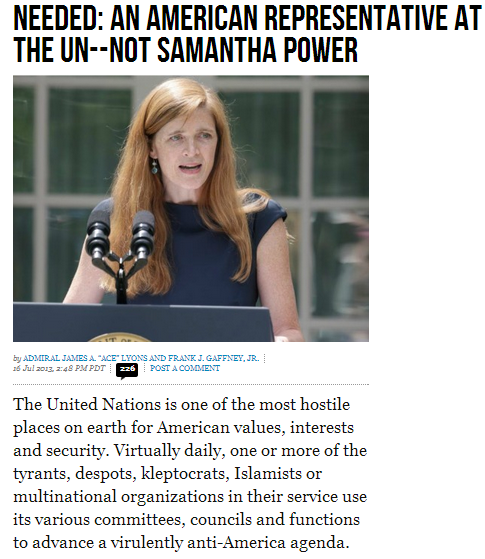 Allowed to go unchallenged, the cumulative effect of such conduct would be to diminish our sovereignty, infringe upon our freedoms and undermine our allies – especially Israel.  First-hand experience like Admiral Lyons' with the UN makes clear that fighting such efforts requires a firm grasp of what is at stake.  That should start with an unwavering commitment to the attributes that have made this country exceptional and great, and an equally clear rejection of what the various transnationalists and other U.S. foes seek to do to her.
Unfortunately, President Obama has nominated as the next U.S. ambassador to the United Nations someone whose record indicates she is unsuited for the job in both regards.  In fact, Samantha Power has for decades found fault with America and its historical role in the world.  For example, in 2003, she wrote in the New Republic:
We need: a historical reckoning with crimes committed, sponsored, or permitted by the United States….Instituting a doctrine of the mea culpa would enhance our credibility by showing that American decision-makers do not endorse the sins of their predecessors. When Willie Brandt went down on one knee in the Warsaw ghetto, his gesture was gratifying to World War II survivors, but it was also ennobling and cathartic for Germany…
In the same essay, Power declared that: "Much anti-Americanism derives from the role U.S. political, economic and military power has played in denying such freedoms to others."  It is one thing to hear this sort of anti-American propaganda from foreigners who choose to ignore our country's unsurpassed history of expending vast quantities of lives and national treasure to help secure others' freedoms.  It would be totally unacceptable in our representative at the UN.