The Independent is a Leftist rag, look at how it headlines its story.
How dare they demand criminals to go home or face prosecution!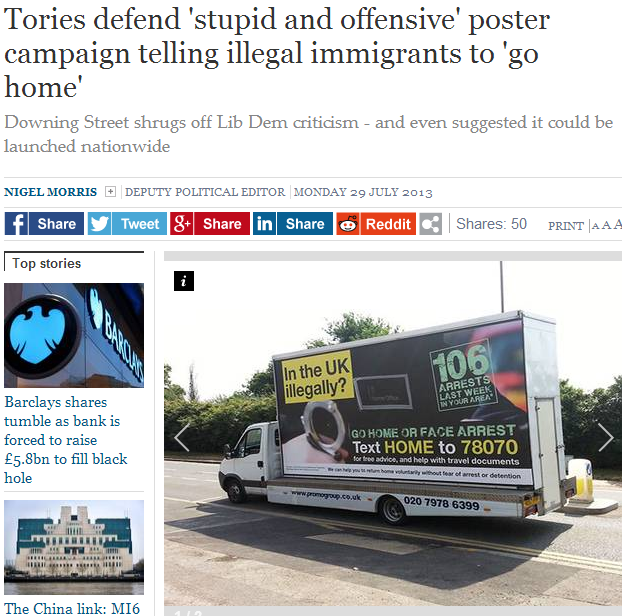 A Coalition row was raging tonight after Downing Street shrugged off Liberal Democrat criticism of a controversial advertising campaign urging illegal immigrants to go home – and even suggested it could be launched nationwide.
The pilot scheme, which targets London boroughs with large ethnic minority populations, has been disowned by the Lib Dems and denounced by Vince Cable, the Business Secretary, as "stupid and offensive".
But the Prime Minister's spokesman insisted the initiative was "already working" and said it had been approved by the Home Office, which includes a Lib Dem minister, Jeremy Browne.
His claims were strongly denied last night by the party. A spokesman said: "We did not sign it off. No Liberal Democrats were involved."
In recent days large billboards carrying the warning "go home or face arrest" have been driven round six London boroughs on advertising vans. The strongly-worded message has been backed by a leafleting drive.
The Home Office said the scheme was designed to encourage illegal immigrants to avoid the experience of detention and deportation by leaving Britain voluntarily.