ALSO:
At least 120 Morsi supporters reported killed in Egypt clashes
Turmoil deepens as security forces shoot scores of Muslim Brotherhood supporters at sit-in in east Cairo
Syria missile strike kills 19 children
At least 29 people, mostly children, died in a regime missile strike on the Syrian city of Aleppo, a watchdog said, as Hizbollah-backed regime forces advanced in flashpoint Homs.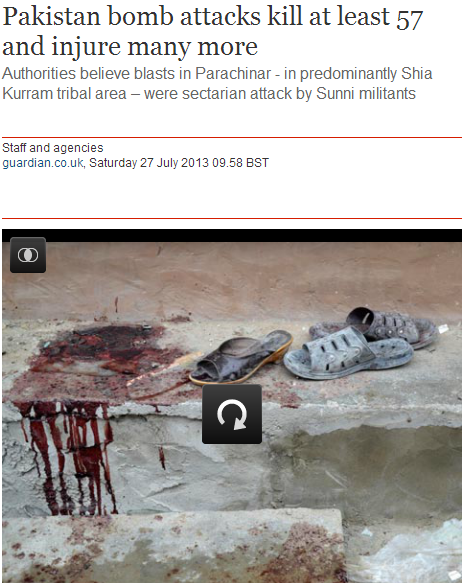 Two bomb attacks in a busy marketplace in north-west Pakistan have killed 57 people and injured 167, local officials said on Saturday.
The authorities believe the bomb blasts in Parachinar, in the predominantly Shia Kurram tribal area, on Friday night were a co-ordinated sectarian attack by Sunni militants.
Hospital official Shabir Hussain said almost all the dead and wounded were Shias.
Shia leader Hamid Ali said the market was full of Shias, who were buying items for their evening meal that breaks the daytime fast during the holy month of Ramadan.
"We demand protection. We request the government to take action against those who routinely kill our people," he told Associated Press.