But first………
Syria: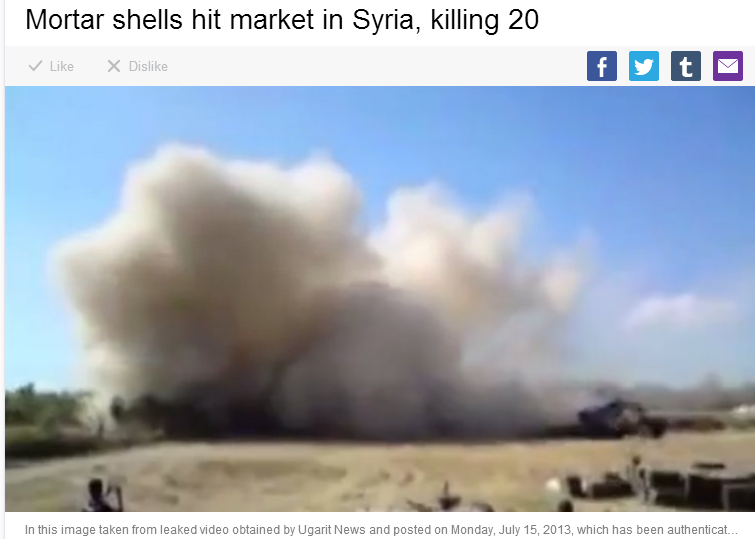 AMMAN, Jordan (AP) — Government troops fired mortar rounds that slammed into a main market in a town in northern Syria on Sunday, killing at least 20 civilians, activist groups said.
The mortar shells struck the town of Ariha, which is held mostly by opposition fighters, a few hours ahead of iftar, the meal that breaks the dawn-to-dusk fast during the Muslim holy month of Ramadan.
Syria activists say family of 13 killed in Sunni village
BEIRUT | Sun Jul 21, 2013 10:10am EDT
(Reuters) – Forces loyal to Syrian President Bashar al-Assad killed at least 13 members of a family in the Sunni Muslim village of Baida on Sunday, in what activists said was the second massacre there.
The Syrian Observatory for Human Rights said four women and six children were among those killed in the village, which is in a coastal area of central Syria.
"A relative came to look for them today and found the men shot outside. The women and children's bodies were inside a room of the house and residents in the area said some of the bodies were burned," said Rami Abdelrahman, head of the Observatory.
Egypt: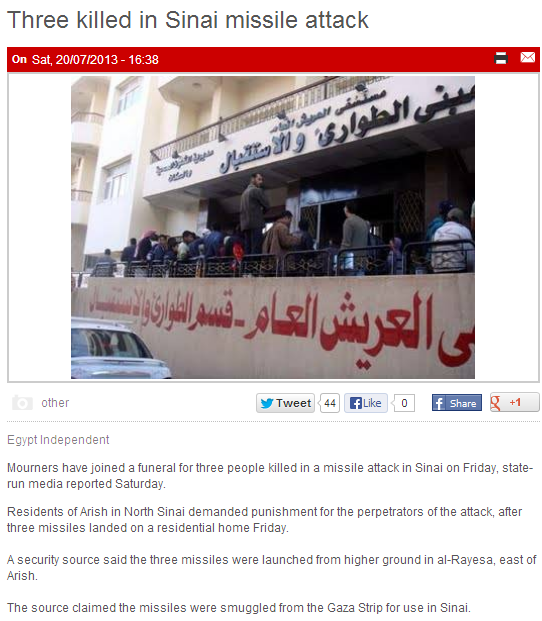 Six killed in militant attacks in Egypt's Sinai
By REUTERS
07/22/2013 04:26
Six Egyptians were killed and 11 others wounded in several attacks by militants in the Sinai peninsula near Egypt's borders with Israel and the Palestinian Gaza strip, medical sources said on Monday.
Two civilians, two army officers and two policemen were killed in at least 10 attacks in the province's main northern cities of Rafah and El-Arish overnight against police stations and security and army checkpoints, according to the sources.