She defends lawlessness.
What's interesting is to read the report in Finnish, with no mention of her breaking the oath of her office as a sworn member of parliament to uphold all the laws. This shows the level of the breakdown of society, elected officials and bureaucrats, if they belong to the "right party(s)" can openly state that they've broken state laws and not fear prosecution.
NOTE: This is the same nut that signed a petition to end arms sales between Israel and Finland, and accused Israel of being a 'child torture state'.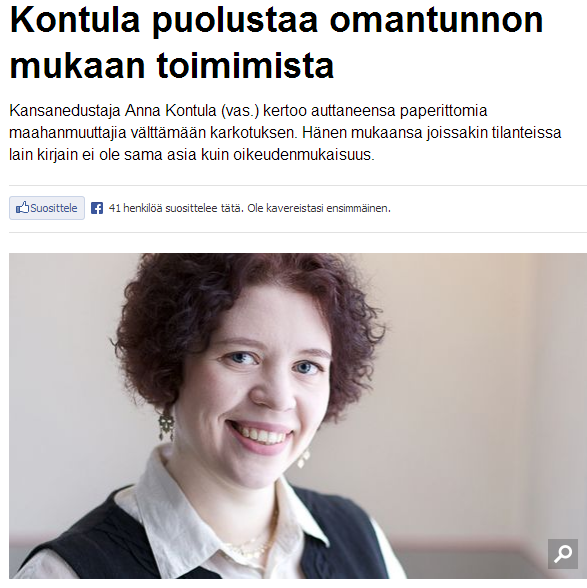 Kontula defends the freedom of conscience to act
Member of Parliament, Anna Kontula (left) explains helping undocumented immigrants to avoid deportation. According to her, in some situations, letter of the law is not the same thing as justice.
Tampere Left Alliance MP  Ann Kontula says she helped immigrants to avoid deportation.
Kontula told about the matter in the Pori Finland Arena discussion forum, which, first was reported on MTV3.
Kontula deemed that she ​​acted correctly in hiding paperless persons, even if the adoption of the law would have been contrary to the letter. She says Minister of the Interior Päivi Räsänen (kd.) agrees with that law and justice are not always the same thing.