Slaughter, slaughter and then slaughter some more.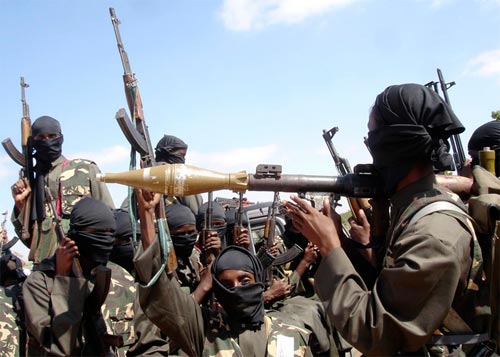 7 police officers killed in northeast Nigeria
May 13, 2012|Haruna Umar, Associated Press
Separate attacks in northeast Nigeria likely carried out by a radical Islamist sect killed at least seven police officers Sunday, witnesses said, the latest violence to shake the bloodied region.
The attacks focused around the city of Maiduguri, where the sect known as Boko Haram once had its main mosque. One attack struck the home of a former federal senator in the region, killing one officer, while other attacks killed four others, a police official said.
The official spoke on condition of anonymity as the information was not yet authorized to be released to journalists.
AND:
7 killed in central Nigeria violence
From Paul Ohia
Abuja, May 10 (PTI) At least seven people were killed and several others wounded when gunmen set fire to a home as they attacked a Christian village today near Nigeria"s volatile city of Jos, officials said.
The attackers shot at anybody who tried to escape the inferno, killing seven. They also wounded several others in the village of Tahoss, inhabited by Christians.
Police spokesman, Samuel Dabai confirmed the incident adding that the police have started investigating.
Jos city which is the capital of Nigeria"s central state of Plateau has been a flashpoint of conflict between Christians and Muslims and the neighbouring villages are just starting to feel the heat of the conflict which started with the question of who is an indigene and who constitutes a settler.
Hundreds of people have died in internecine crisis involving ethnic Fulanis and Beroms in Jos and its environs.
Majority of the Fulanis are Muslims while the Beroms are mostly Christians.