This is a comment to a post I did the other day about the Norwegian ambassador and his ridiculous attempt at criticizing a writer at the Jpost who highlighted the Norwegian government's hostility towards the Jewish state of Israel.
UPDATE: Steve Bronfman comments with the following salient point that needs to be hammered at ALL of the various ankle biting critics/Israel biogts/anti-Semites:
Since they refer to "Israel" as a country and not a particular Israeli Government or party they are clearly Judeophobic as they demonise Israel regardless of who's in power or their policies. To them Israel can do nothing right except surrender to it's Muslim enemies.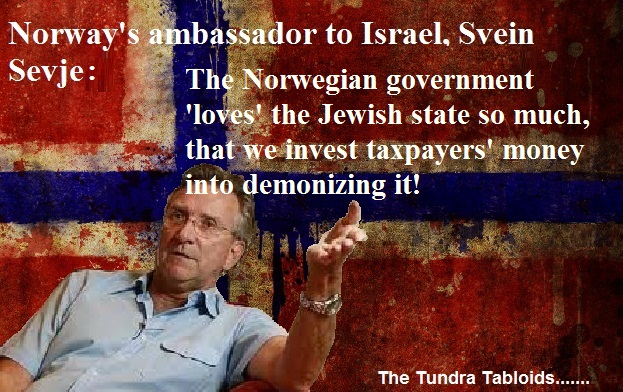 The ambassador is a shameless liar.
HELEN: I have been a Norwegian Friend of Israel for more than 40 years, and I have seen what has happened in my country, post the six day war, when Israel received massive support. There has been a long term organized campaign against Israel, from the press, politicians, academia, NGOs (subsidized by the state), others and implicit against the Jewish People, under the disguise of being legitimate criticism of Israel.
Then I ask 1) why these critics never ever give Israel any slack, its all one sided and hostile and 2) never ever do they criticize Israel's despotic enemies or expose their evil deeds. Their double talk, and what they say to their own, and how they teach their children to kill Jews. This education my goverment gives money to. NGOs under the cover of aid org. support, one part of the Labor Party, Norsk Folkehjelp. The other the state church. Kirkens Noedhjelp. The bishops in Norways support the despots, and are very proud of it. They all know, that its a one state sollution, with now jew in it. Everything else is crap.
Finally; being a Friend of Israel; puts your security in danger: I refer to the 1/8/2009 attack, Krystall Nacht in Oslo, no one prosecuted. Senior member of the governement, was there to support the facist mob. JP showed the picture of Kristin Halvorsen, not the Norwegian press. They covered up the whole thing.
In addition the fact that our Jewish compatriots, now must hide their identity, and are refused to come to schools to inform children, muslims are invited with their propaganda. The left wing/ political parties, the government itself to the very top, are in bed with Muslims, PLO and HAMAS and that even parties on the right of center, fail to support Israel. There is one party FRP, and now I have sense that it is also sliping away too. To be a member of the club. The Christians Party KrF are failing Israel too.
We are a small group of Christians that will always stand by Israel, and the Jewish People. We see all the evil lies every single day, and the press ignore us. Now you cannot even enter Christian forums, and people come in there – with no interest in Christian issues – to attack you, if you support Israel. Its not debate, just demonetization, and the usual parroted refrains. So; please just tell the truth about Norway, for that the only angel we have, that their false humanist image suffers, internationally.