Now that didn't take too long, now did it?
You can set your watch to it. Just you wait, the morons on the Left will be crying crocodile tears over these pieces of fecal matter, demanding their release, laughably calling them "political prisoners".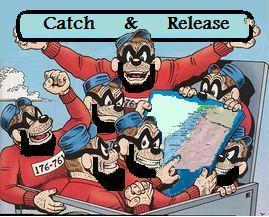 Terrorists freed in Schalit deal return to terror
04/17/2012 16:52
Shin Bet: Two terrorists released in Gilad Schalit deal rearrested for trying to commit terrorist acts.
The Shin Bet (Israel Security Agency) revealed Tuesday two cases of Palestinian terrorists who were released in the prisoner swap for Gilad Schalit last year but have since returned to engage in anti-Israel terrorist activity.
In October 2011, Israel released over 1,000 Palestinian prisoners in a deal with Hamas which brought Schalit home after five years of captivity in the Gaza Strip.
The first case is Omar Abu Snina, who was released to the Gaza Strip. According to the Shin Bet, Abu Snina – a known Hamas operative – has been working in recent months to recruit Palestinians from the West Bank into Hamas's ranks.
The Shin Bet said that it obtained a memory card Abu Snina had sent family members in the West Bank which included detailed instructions related to kidnapping soldiers, illegally obtaining weapons and establishing a terrorist cell.
The second case is of Daoud Hilo, a 22-yearold resident of the Amari refugee camp near Ramallah. He was arrested about a month after his release for illegally purchasing weapons. He was convicted in late March and will return to prison for four more years.