Shocked? You shouldn't be, the federal government is just one branch of the Democratic party.
Secretary of Labour Solis arm in arm with race baiting Sharpton and Jackson.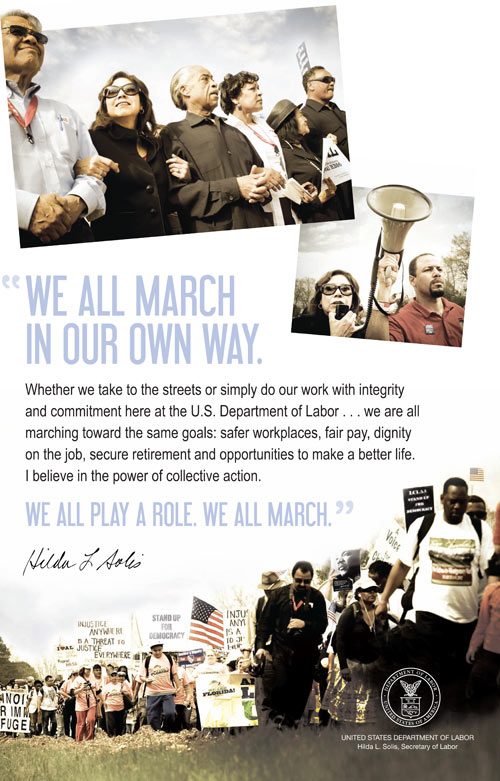 Via: Weasel Zippers
(The Daily Caller) — President Barack Obama's labor secretary, Hilda Solis, has authorized new posters in elevators throughout the Department of Labor's Washington, D.C. headquarters building. The posters feature a photo of her marching in protest alongside the Rev. Jesse Jackson and MSNBC television host Rev. Al Sharpton, among others.
The photo depicts Solis acting as an emissary of the Obama administration protesting against Alabama's strict new law combating illegal immigration. Solis has her arms locked with Sharpton, and Jackson is a few feet away. The poster also carries a message for federal government employees — who are traditionally expected to be apolitical in the performance of their duties.
"Whether we take to the streets or simply do our work with integrity and commitment here at the U.S. Department of Labor," the poster reads, above Solis' signature, "We are all marching toward the same goals: safer workplaces, fair pay, dignity on the job, secure retirement and opportunities to make a better life. I believe in the power of collective action."
A Labor Department spokeswoman did not respond to The Daily Caller's request for comment on whether Solis is encouraging federal workers to use their positions to promote a political agenda. Even so, an official sign describing the posters' purpose indicates that may be the case.