I wonder if there has been anyone documenting just how many women have been actually raped and murdered by Somali refugees/migrants over the past two decades since they began arriving in earnest to the different capitals of the West?
I just reported yesterday about the 15year old Finnish girl who was raped by two Somali teenagers in 2010, they committed the heinous crime on their way from Koran school. We have to face some facts here, many of these refugees/migrants are committing crimes that far exceeds their demographic number, in other words they're disproportionately represented in these crime statistics.
There needs to be an end to allowing these refugees and migrants into the West, they would be better suited for the areas in their immediate vicinity, and anyone earmarked for eviction or convicted of a crime, needs to serve their time and be repatriated to their place of origin.
NOTE: There are many refugees that are truly thankful for being allowed a safe haven in the West, and eagerly wait for the time  when they can return. My beef is not with these refugees.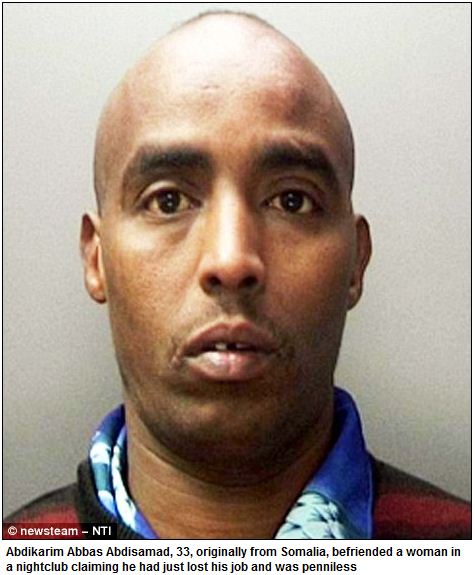 Illegal immigrant raped young woman three years after judge ordered him to be deported
The 33-year-old raped the woman twice and battered her so severely she had 17 injuries

Bungling Home Office is finally trying to deport him

By EMILY ALLEN
PUBLISHED: 13:25 GMT, 20 April 2012 | UPDATED: 13:32 GMT, 20 April 2012
The Home Office came under fire yesterday when it emerged an illegal immigrant brutally raped a young woman – three years after a judge ordered him to be deported.
Abdikarim Abbas Abdisamad, 33, originally from Somalia, befriended a 24-year-old woman in a nightclub claiming he had just lost his job and was penniless.
The victim took pity on Abdisamad and invited him to her home where he raped her twice and battered her so severely she suffered 17 separate injuries.