And we all know that Hamas' sense of justice and its judicial system, is the envy of the world.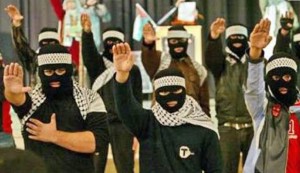 NOTE: We can only wonder whether they slow hang (strangle) them to death like in Iran, or in the traditional way. What do you think?
Hamas executes three by hanging — one of whom 'spied for Israel'
GAZA CITY, Gaza Strip (AP) — Gaza's Hamas rulers say they have executed three men in dawn hangings.
An interior ministry statement said one man was spying for Israel. Palestinians who collaborate with Israeli intelligence are widely loathed.
The man was also charged with murder, as were the other two men hanged on Saturday.
The statement said the families of the victims could have saved the condemned men by forgiving them at the last minute, but they all refused.