Now that's what I call being entirely ungrateful for being allowed to live within a foreign society, robbing them, and from a children's hospital no less.
H/T: Vlad.
Translated from Danish by Nicolai Sennels,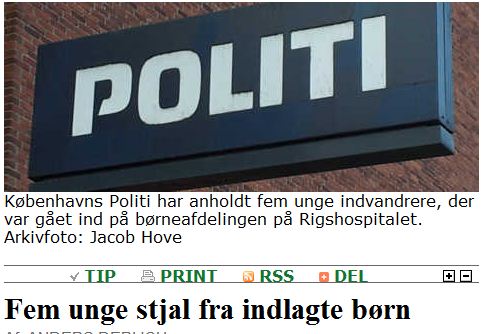 "Five youths stole from hospitalized children":
Jyllands-Posten April 2nd
The police have arrested five young immigrants for stealing from the children's ward at Rigshospitalet (Denmark's biggest hospital). Monday morning a nurse called Copenhagen Police. "At 11:02 we were told that five young immigrants have been detained at the children's ward at Rigshospitalet where they had been caught stealing," says police officer John Hansen from Copenhagen Police. The five youths were resisting arrest when police arrived at the hospital which is located at Nørrebro.
"They quite violently resisted arrest so we had to send three police cars in order to make the arrest. …" says John Hansen. Now the police are investigating if the youths are also connected to a series of other thefts that have been taking place at the hospital for quite some time. 'We suspect them for being a group of thieves that has been stealing from Rigs hospital the last two months.'"