The amount of times this kind of talk was ever heard from a Tea Party speaker…zero.
These people (Democrat supporters) are completely unhinged. A word of advice to my conservative friends: It's not going to be enough to turn the tide by just winning a few elections, the GOP, if it ever wants to remain relevant, has to embrace conservatism, meaning being able verbalize what it means to live in a free society founded as a republic with a magnificant constitution, the glories of free market capitalism and the importance of individual responsibility and get that message to those yet unaffected by the rabble-rousers.
NOTE: To my friends who call themselves Independents or even Democrats, wake up and smell the coffee.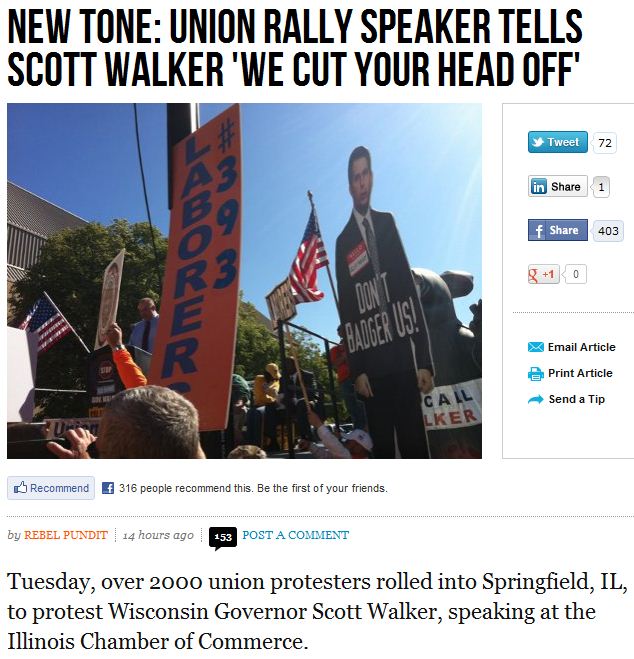 […]
McJunkins delivered an energetic address he closed up metaphorically with the story of David and Goliath, ultimately declaring:
We are the Davids … and you may be a big giant, a big goliath, but David had 5 smooth stones that brought Goliath down … all he had was stones and a sling shot, and I just wonder out there among us, how many of you came with your sling today? … Load your slings up today when we leave here, putting a smooth stone of equal rights at the collective bargaining table and throw it at Goliath … And Goliath will come down, Scott Walker we send you back to Wisconsin as David did Goliath, we cut your head off and go back into town, singing a new song!