HOLY MACKERAL!
And after all the posting I did on actor Tom Hanks!
Just think of what would have happened if it were the Sweden Democrats in such a picture! However the real issue for me surrounds the fact that the Swedish government offers subsidies (tax payer money) to newspapers, and she's for withholding such money from a nationalist paper for its racism. Here she is cutting a cake of a stereotypical African woman, which can be accurately described as despicable, and with the Minister of Culture no less.
NOTE: Why is public money going to subsidize the media?
Stockholm cultural elite celeberates together with the minister Lena Adelsohn Liljeroth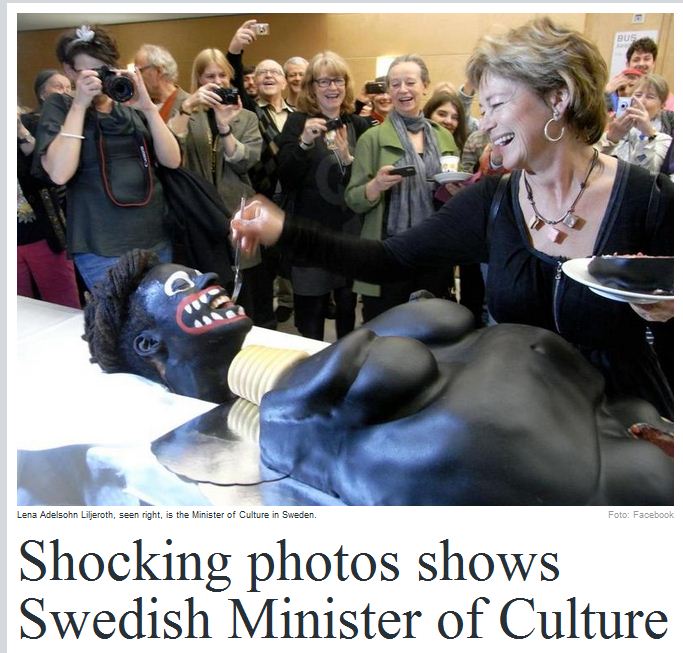 Minister in 'racist circumcision outrage'
Published: 17 Apr 12 12:36 CET |
Swedish minister of culture Lena Adelsohn Liljeroth's participation in a "racist spectacle" in which she carved up a cake depicting a naked black woman has sparked outrage and prompted calls for the minister's dismissal.
"In our view, this simply adds to the mockery of racism in Sweden," Kitimbwa Sabuni, spokesperson for the National Afro-Swedish Association (Afrosvenskarnas riksförbund) told The Local.
"This was a racist spectacle."
Sabuni's comments come following Adelsohn Liljeroth's participation in an art installation that took place at Stockholm's Moderna Museet in connection with World Art Day on April 15th.
As part of the installation, which was reportedly meant to highlight the issue of female circumcision, the culture minister began cutting a large cake shaped like a black woman, symbolically starting at the clitoris.
Makode Aj Linde, the artist who created the installation and whose head is part of the cake cut by the minister, wrote about the "genital mutilation cake" on his Facebook page.
"Before cutting me up she whispered, 'Your life will be better after this' in my ear," he wrote in a caption next to the partially eaten cake.
More here also.
H/T Vlad