Sleeve-patch-gate
In a clear case of political satire, the monolith Finnish MSM (and Finns party leaders) take to brow beating the hapless secretary of a Finns MP, for talking about arm-bands for all kinds of minorities in connection to a story about the complaints of Police supposedly profiling foreign looking people just for the heck of it.
Now, would I myself as a secretary of a politician choose to make such a satirical posting without making it a 100% certainty that the political opposition cannot use it as ammunition to paint you as an 'extremist' and hurt your party? The answer is no. That said, the media's reporting of the story has been farcical and predictable, which means very very political.
NOTE: Here are some articles about it in English. The secretary, Helena Eronen's text is below the fold.
UPDATE: Finns Party ejects controversial MP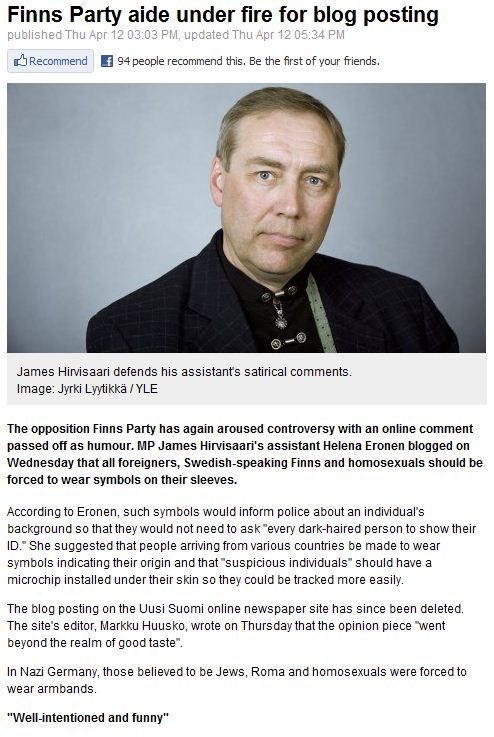 "I absolutely did not mean it seriously; it was intended as satire," Eronen told Yle's Swedish-language news. She said it was intended as a humorous response to a news story about police stopping foreigners to check their identity papers.
"Of course I can only blame my own ignorance. The strong reactions to it were to be expected," added Eronen.
In a blog posting of his own on Wednesday, Hirvisaari defended his assistant's comments, calling them "well-intentioned and funny". He lashed out at Uusi Suomi for its "pathetic lack of a sense of humour" in its decision to delete the posting. He re-published her piece on his own website.
Hirvisaari hired Eronen, from the eastern town of Lieksa, as his new parliamentary assistant in January. A month earlier, Hirvisaari was convicted of incitement against an ethnic group for comments he made on the Uusi Suomi site early last year before he was elected to Parliament. YLE
H/T: Vasarahammer Who leaves the following report on the situation as it now stands, beneath fold.
It's still a developing story, even though the end is approaching:
The events are the following:
1. Helena Eronen (aide to MP James Hirvisaari) writes a blog post in Uusi Suomi website. That post is a satirical response to Minority Ombudsman's complaint about the alleged racial profiling by the police  i.e. stopping people who look like foreigners and asking for identification.
Blog post can only be found at James Hirvisaari's website, since Uusi Suomi deleted the post shortly afterwards.
2. Turun Sanomat publishes a news item, in which they claim that Helena Eronen has suggested shoulder patches to foreigners and reminds the readers that Jews were required to wear armbands containing the star of David in the Nazi Germany.
//www.ts.fi/uutiset/kotimaa/333093/Kansanedustajan+avustaja+ehdottaa+ulkomaalaisille+hihamerkkeja
The article has been edited. The original article did not in any way imply that the text was satire ridiculing the Minority Ombudsman. At this stage, Eronen's original blog post had disappeared, so most people couldn't see the original but had to rely on the hugely distorted version published by Turun Sanomat.
3. The distorted news is spread all over Finnish media and abroad as well. Swedish Dagens Nyheter published a piece but let Eronen speak and tell that it was not a serious suggestion. Turun Sanomat blatantly violated the journalistic ethic by not letting Eronen confront the accusations.
4. The head of the Finns party parliamentary group Pirkko Ruohonen-Lerner reacts to the news in a way that is damaging to her party. She falls to the trap set up by the media.
//www.mtv3.fi/uutiset/kotimaa.shtml/2012/04/1527487/ruohonen-lerner-tallaisista-kirjoituksista-paastava-eroon
5. James Hirvisaari announces that he will not terminate Eronen's employment.
6. Pirkko Ruohonen-Lerner still does not give up and complains how Eronen has damaged Finland's reputation abroad. (as if a mere parliamentary assistant is able to do that without the help of shameless MSM)
//www.hs.fi/politiikka/Ruohonen-Lerner+Hirvisaaren+luottamus+kokolailla+mennyt/a1305559943144
In that article it is mentioned that Johan Bäckman has reported Eronen's article to the police. With Bäckman's assistance the news spreads all over Russian media. Finnish MSM and Bäckman are in the same boat now judging by the following article:
//www.ts.fi/uutiset/kotimaa/334514/Hihamerkkikolumni+kuohuttaa+nyt+Venajan+tiedotusvalineita
Quote:
"Johan Bäckmanilla on ollut jo vuosia poikkeuksellinen asema välimiehenä, joka on avittanut naapurimaan seuraamisessa sekä Suomen että Venäjän tiedotusvälineitä."
Translation:
"For years Johan Bäckman has had an exceptional status as an intermediary who helps to monitor events in the neighboring country both in Finnish and Russian media"
At this point, the case has turned into farce. The modern Finnish version of Lord Haw-Haw (or Moskovan Tiltu) is a hero in the media.
7. Internal email between Matti Putkonen (The Finns party official) and Ruohonen-Lerner is leaked to the press.
//www.hs.fi/politiikka/Perussuomalaisten+sis%C3%A4inen+s%C3%A4hk%C3%B6posti+vuodettiin+julkisuuteen/a1305560011490
It is still not clear if the email was genuine or a fake. Putkonen has confirmed that the discussions have taken place.
8. Jussi Halla-aho takes a stand on the issue.
//yle.fi/alueet/helsinki/2012/04/halla-aho_lyttaa_suurkunnan_-_ja_toimittajat_3408235.html
Quote: "Eronen is a smart person with a sense of humor and that kind of people find it difficult to predict, how low stupid and humorless people – like those in the media – can get."
The only one who has stayed silent through the whole issue has been the party chairman Soini.
The armband/shoulder patch/sleeve patch gate was the latest in the long line of media ambushes against the Finns party. The aim is to split the party into two and this attempt has been the most successful one to date. It seems that Ruohonen-Lerner cannot handle this kind of situations well judging by the way she lost the plot early when she relied solely on the words of Turun Sanomat newspaper.
Helena Eronen is one of the most popular bloggers in the Uusi Suomi website and writes at
//ohohupsis.puheenvuoro.uusisuomi.fi/
She's smart and skillful with words but I coming from the western part of the country can't always understand the eastern sense of humor.
I bet she couldn't expect what kind of circus starts from a single blog post.
Helena Eronon:
A solution for the police for raiding foreigners
The nice-eyed man at the Ombudsman for Minorities office told in the YLE morning news to be very upset after hearing the police's apartheid-like action against people of foreign origin.
The police had asked for ID's from a group of east-european men without any particular reason, just because they were foreigners.
These kind of notifications are streaming into the Ombudsman for Minorities office all the time and because of this, the budget frame 2013-2016 flap has – Thank God – a 75 000 Euro increase to the allowance to the Ombudsman for minorities office for getting two additional posts.
While the economy is tight and thereby the police also has limited resources to stop every long-haired or long-legged, I thought I'd make a suggestion for a more economical practice, replacing this current human rights violating one.
Badges.
If every foreigner was oblidged to wear a badge of origin the police would immediately see "that's a muslim from Somalia" or "ok, that's a beggar from Romania". Muslims' badge could be a half moon which colour is defined by something in their homeland or country of origin, thus Russians would have a sickle and a hammer, Gambodians a land mine and US citizens a hamburger. For example, a (illegal) taxi driver from Sortavala would wear a badge with a black-red sickle and hammer in it.
(At this point a carismatic gentleman from Espoo commented that, to please the social democrats private entrepeneurs should also be obligated to wear a badge, by that way the socialists would know whose pockets to empty.)
Well, at this point one might get some unpleasant associations but take it so, that when a refugee kurd gets a permanent residence permit his red half moon badge is changed to a blue-white one. When or if he or she becomes a Finnish citizen he or she could relinquish that badge to the badge officials in a religion-independent bacchanalia held in the cellar of the Ombudsman for Minorities office. Just think how magnificent a moment it would be for that kurd person. It would strengthen the social integration and also make Finland and being a Finn something to reach for.
And as my brain seems to be running overdrive because of this brilliant idea, I developed this idea further: Finnish Swedes could also wear a badge so the others could see from a distance – "yikes!" – those must not be pushed around in the queue. Sexual minorities might also wear that rainbow badge…
Ok, badge removes the identification problem from the police so, they no longer need to stop – against human rights treaties – random foreigner looking persons to ask for their ID's.
But.
The reason for the police to ask for ID's is that they are interested in foreigners' backgrounds ie. the reasons for this Gestapo-like behavior are organized crime, illegal immigration and deportations.
Then, as a person without a Finnish passport comes to Finland, he or she would be obligated to make a thorough explanation of his or her backgrounds before receiving a badge. That way it would be possible to deny the right for a badge or, in case of a suspicious person, implant a microchip under the skin for surveillance. The ones having terrorist
contacts could be obligated to wear a green headscarf.
If this suggestion of mine appears to be not-such-a-good-idea then, what if it's turned around? All Finnish citizens are required to wear a badge which is simply a lion figure or respective or a flag according to province and foreigners are recognized by not wearing a badge.