'Activists' hardest hit.
Airlines cancel Israel flights for over 60 percent of pro-Palestinian fly-in protesters
Activists threatening to sue airlines, including Lufthansa, Air France and Easyjet, for 'bowing to Israeli pressure'; PM's Office releases sarcastic 'thank you' letter to be given to activists on arrival.
By Zohar Blumenkrantz, Yaniv Kubovich and Jack Khoury
Published 22:07 14.04.12
More than 60 percent of the 1,500 pro-Palestinian activists due to arrive in Israel on Sunday to take part in a fly-in protest have received notifications from airlines that their flights were canceled, the spokesman for the "Welcome to Palestine" protest told Haaretz on Saturday.
The activists were planning to arrive in Israel to participate in a protest against West Bank settlement construction that was scheduled to take place on Sunday. Last July, a similar "fly-in" took place, with more than 300 international activists arriving in Israel. Of those activists, 120 were detained.
Among the airlines that notified the activists of flight cancelations were Lufthansa, Air France and Easyjet, Dr. Mazin Qumsiyeh, a Bethlehem-based spokesman for the protest said, adding that the activists are threatening to take legal action against the airlines.
"Israel passed lists of hundreds of activists to companies, along with a letter in which it claimed that they were coming to carry out a provocation and disturb the peace, and this is just not true. It is very unfortunate that these companies bowed to Israeli pressure," said Qumsiyeh, who added that he has no doubt that some of the activists and Palestinian organizations – including his own – will pursue legal action against the companies.
Here's the 'thank you for choosing Israel' letter. I love it!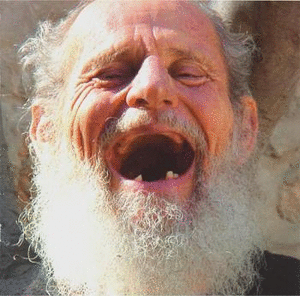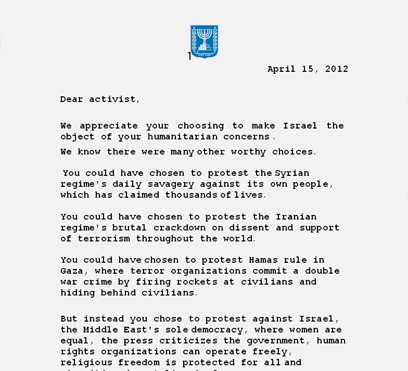 minorities do not live in fear.
The letter concludes:
"Therefore we suggest to let you solve first the real problems of the region, and then come back and share with us your experience. Have a nice flight."
RIM SHOT!