The more you scratch, the more marxism revealed.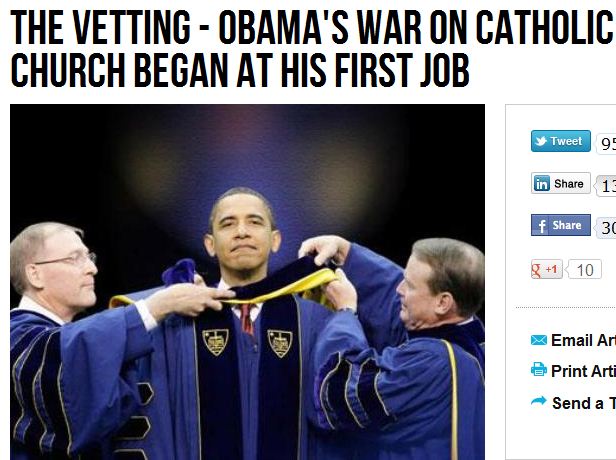 One of the least explored periods of Barack Obama's life is the period between his graduation from Columbia University in 1983 and his arrival at Harvard Law School in 1988.
This was a crucial, formative time for the young Obama. It was during these years that Barack Obama, "community organizer," forged his identity and the relationships that would bring him to the White House. And he did so hand-in-hand with the radical Catholic left in Chicago.
Obama's first job in Chicago began in 1985 with Jerry Kellman, a Saul Alinksy-trained community organizer who continues to work with the radical Catholic left in the Windy City. Kellman was a veteran protestor of the '60s–he once joked that he majored in protesting at the University of Wisconsin-Madison before transferring to the progressive Reed College–and wanted to use the "social justice" teachings of the radical Catholic left to co-opt the Church for his Alinskyite project.
Obama's job was to help Kellman expand his project's reach into the black churches.
He was paid by these radical Catholic leftists, who in turn had received their money from their parishioners or the larger Catholic church. Obama's travel documents and expenses were signed and approved by the late Cardinal Joseph Bernardin,a  controversial figure in the Catholic church who supported nearly every left-wing movement within it. Though Bernardin was well liked in Chicago, especially by a fawning media anxious to have a Catholic imprimatur on nearly every social issue of the day, Bernardin's work undermined many Catholic teachings.
Early on, he tried to maneuver around Paul VI's teaching in Humanae Vitae, which governs the morally appropriate way to deal with sex and birth. At a dinner party, Bernardin famously credited Mikhail Gorbachev, not Reagan or John Paul II, with ending the Soviet Union. And perhaps most mischievously, Bernardin called for a "consistent ethic of life," which tied the anti-abortion cause to pacifism and redistributionism and therefore gave cover to liberal Democrats trying to claim they were Catholic.