Worse still is the thought that someone at SCOTUS, might have tipped him off, an impeachable offense.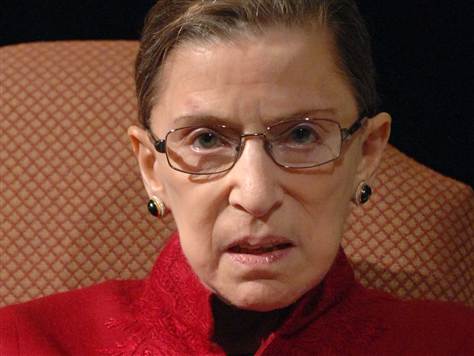 Big time supporter of the Obamanation's socialized healthcare mandate, Justice Ruth Gingsberg, conveniently not available for comment.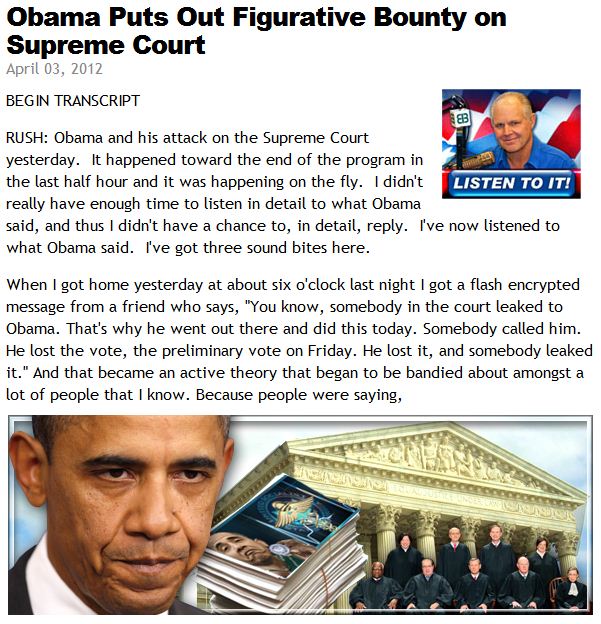 "Why go out," as Obama did yesterday…? It was in the form of a question. We must remember that he was asked a question about this. He didn't launch into this on his own, but once he got the question, it was, "Katie, bar the door," and he was off to the races.
And the question everybody was asking is: "Why do this? Why attack the court? Why intimidate them, why threaten them if they had voted to uphold the mandate?" And I have an answer for that. See, I know these people. I know liberals. I don't want that statement to sound bombastic. You people here — new listeners to the program — that's not a braggadocios statement. It's not bombastic. It's not outrage or any attempt to shock. I just know them, and so when somebody asks me, "Why would Obama say that if he didn't have to? If he had been told that the preliminary vote on Friday was in his favor, why take the attitude that he took?" There is an answer to that. I don't know if it's right, but there is an answer.
He's a thug.
And again, I'm not trying to be provocative when I say this. I'm just quoting Bill Clinton, folks. Bill Clinton referred to Barack Obama as a Chicago thug during the 2008 presidential campaign. This after Clinton some years earlier had told Juanita Broaddrick, "Put some ice on that lip" after she said he raped her. (I mentioned that for this "war on women" that supposedly the Republicans are waging.) But there's every possibility that Obama feeling his oats, being told that the vote went his way, would still go out and do this, 'cause he knows there are more votes to come. I'm not predicting it. I'm just saying I could understand it.
It's easier to understand that somebody leaked to him that the preliminary vote went against him and that the mandate fell by whatever the preliminary vote was and that explains his attitude yesterday. But I can see him saying what he said if the vote went in his favor as well, as a means of further intimidation, making sure they don't change their minds or whatever. You might say, "Well, how would that work? Wouldn't that just kind of make them be more resistant?" The reason this is all a crock in the first place is that (and we will go through this as we play the Obama sound bites) it is obvious that to the left this is an entirely political process.