A "Muslim university" is an oxymoron.
This shows you just how twisted the ideology of Islam is, it robs the history and culture of other societies and civilizations, then invents a false narrative to help their agenda. Face facts, Islam sucks.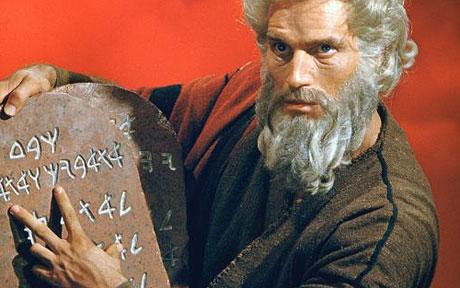 Moses: " Does this look like Arabic script to you!"
ALSO:
["Brothers, half of the Palestinians are Egyptians and the other half are Saudis," exclaimed the Hamas minister.] (Elder of Ziyon has the vid)
Moses was a Muslim who led Muslims in Exodus from Egypt, says PA university lecturer on PA TV
Israel's conquest of the Land of Israel defined as:
"The first Palestinian liberation through armed struggle to liberate Palestine."
by Itamar Marcus and Nan Jacques Zilberdik
A Palestinian university lecturer taught during a recent Palestinian Authority TV program on religion that Moses, a Muslim, brought "the Muslims of the Children of Israel out of Egypt." He refers to the subsequent Israeli conquest of the Land of Israel as the "first Palestinian liberation… of Palestine." This conquest, he taught, was led not by Joshua, as the Bible tells, but by Saul (Talut) who is also said to have slayed Goliath.
While some of this is retelling of Islamic tradition, some of it is a distortion of even the Quran for political purposes. The Quran refers to the "Children of Israel" in their land in many chapters (e.g., Sura 5), but it never refers to them or anyone else as "Palestinians." Likewise the Quran never refers to Israel's conquest as a "Palestinian" conquest. The lecturer on PA TV, however, deviates from Islamic tradition, and calls the nation of Israel's conquest of the Land of Israel "the first Palestinian liberation through armed struggle to liberate Palestine."