One is a goaltender for the Pali olympic team!
The Arabs violate the Geneva Conventions repeatedly, knowing full well their lackeys in the media will always turn their heads the other way.
UPDATE: Original report now in English
Palestinian officer, Red Crescent employees suspected in attack against IDF troops
Shin Bet and IDF arrest 13 Palestinians suspected of attacking IDF forces in Ramallah in January; one of the suspects is a goalkeeper on the Palestinian Olympic soccer team.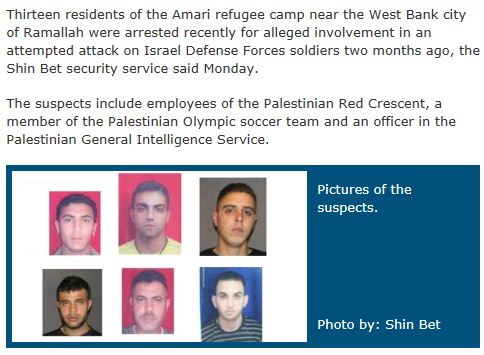 The incident in question occurred on January 20, when shots were fired at IDF forces operating in Ramallah. No one was wounded in the attack, but one IDF vehicle sustained damage.
The suspects named in the attack included Salah Barael, 23, who works as a guard for the Red Crescent and Omar Abu Rwayyis, also 23, who also works for the Red Crescent. According to the Shin Bet, Abu Rwayyis is affiliated with Hamas and is also a goalkeeper on the Palestinian Olympic soccer team.
According to the Shin Bet, the suspects shot at IDF forces using Kalashnikovs, then hid the weapons in an abandoned building. Later, Abu Rwayyis allegedly handed off the guns to another resident of the camp, Ahmed Hattab, who is also employed by the Red Crescent.
After Abu Rwayyis was arrested, Hattab gave the guns to another man, Mansour Abbas, who serves as an officer in the Palestinian General Intelligence Service in Ramallah and is responsible for the guards at the Red Crescent. The Shin Bet also suspects Hattab of dealing in arms. More here.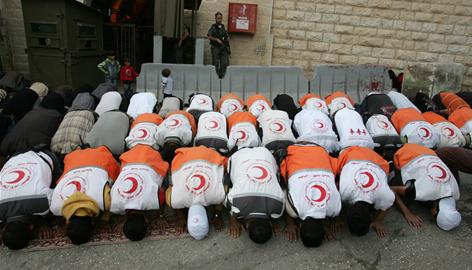 Google translated from Hebrew:
Red Crescent staff and senior Palestinians officer arrested on suspicion of committing an attack against an IDF force
Shin Bet arrested 13 Palestinians suspected of shooting at IDF forces and planning other attacks in Judea and Samaria. One of the detainees – the PA football team's goalkeeper
GSS (General Security Service) allowed today (Monday) published last weeks recent arrests of 13 residents of the Am'ari camp in Ramallah, on suspicion of involvement in the shooting at an IDF force camp carried out two months ago. The attempted attack, on 20 January this year, there were no injuries but damage to one of the Khalil vehicles.
Investigation revealed that members of the squad who were firing – using two Kalashnikov weapons – were Salah Braal and Omar Abu – Royce, two Red Crescent workers. Supplied weapons to Abbas monastery, general B"modiain officer "in Ramallah and in charge of the guards with the Red Crescent. GSS claims that Abbas is a weapons dealer who had, as noted, the weapons used by the two.