France and the UK lead the way in spreading the jihad.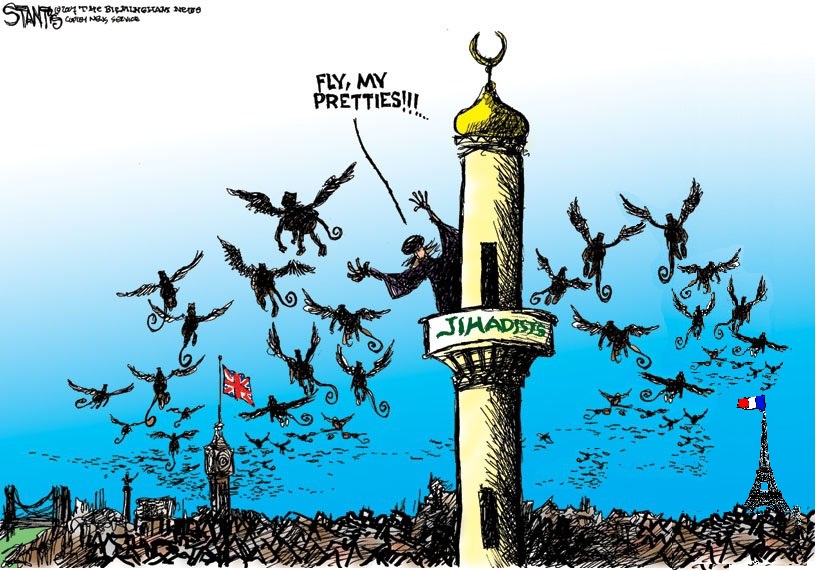 UPDATE: Toulouse gunman Mohammed Merah had links to Islamic extremists in Britain
Maybe this is what Tariq Ramadamadingdongdoo meant by
"A pathetic young man, guilty and condemnable beyond the shadow of a doubt, even though he himself was the victim of a social order that had already doomed him, and millions of others like him,…"
His older brother Abdelkader Merah backs up the assessment that there are millions more of potential jihadis in France, just waiting in the wings. He approves whole heartedly of his brother's murderous actions in brutally snuffing out the lives of a Jewish family, and we're supposed to believe that Islam is not involved.
"I am very proud of my brother. I regret nothing for him and approve of what he did."
Officials: Pakistani Taliban training Frenchmen
DERA ISMAIL KHAN, Pakistan (AP) — Dozens of French Muslims are training with the Taliban in northwestern Pakistan, raising fears of future attacks following the shooting deaths of seven people in southern France allegedly by a man who spent time in the region, Pakistani intelligence officials said Saturday.
Authorities are investigating whether Mohamed Merah, the Frenchman of Algerian descent who is suspected of killing three Jewish schoolchildren, a rabbi and three French paratroopers in Toulouse this month, was among the training group, the officials said.
Merah was killed in a dramatic gunfight with police Thursday after a 32-hour standoff at his Toulouse apartment. The 23-year-old former auto body worker traveled twice to Afghanistan in 2010 and to Pakistan in 2011, and said he trained with al-Qaida in the Pakistani militant stronghold of Waziristan.
Approximately 85 Frenchmen have been training with the Pakistani Taliban in the North Waziristan tribal area for the past three years, according to the intelligence officials, who spoke on condition of anonymity because they were not authorized to talk to the media. Most of the men have dual nationality with France and North African countries.
The Frenchmen operate under the name Jihad-e-Islami and are being trained to use explosives and other weapons at camps near the town of Miran Shah and in the Datta Khel area, the officials said. They are led by a French commander who goes by the name Abu Tarek. Five of the men returned to France in January 2011 to find new recruits, according to the officials. It's unclear whether Merah was among that group.
French President Nicolas Sarkozy promised a crackdown on French citizens found to have trained in terror camps abroad.