No matter what your views are concerning the German law on holocaust denial, the fact remains that the German judicial system should uphold the law regardless of who violates it. Whether these laws actually violate free speech  rights is another matter altogether.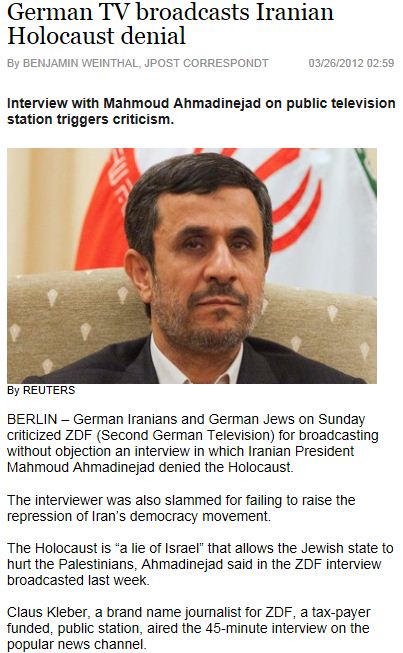 Dieter Graumann, head of Germany's 105,000 member Jewish community, told the Bild am Sonntag paper that ZDF provided Ahmadinejad a platform to spread his "poison."

"I am very disappointed that a respected German journalist, and on top of that, a public station, allowed the most brazen remarks from notorious Holocaust denier Ahmadinejad to remain unchallenged," Graumann said.

Cleber said he did not contradict Ahmadinejad because he did not want to give him the opportunity to "fully spread his rubbish," according to a statement cited in the Berlin daily Tagesspiegel.

Holocaust denial is illegal in Germany, but Iranian diplomats and politicians have denied the Shoah at state-funded events in Germany.

More here.