Bringing you the other side of the nasty spectrum.
Sorry to all you Catholics out there, but "good intentions" just doesn't cut it here, in the figurative sense of the word that is.
BadNewsFromTheNetherlands blog:
Roman Catholic Church Castrated at Least 10 Teenage Boys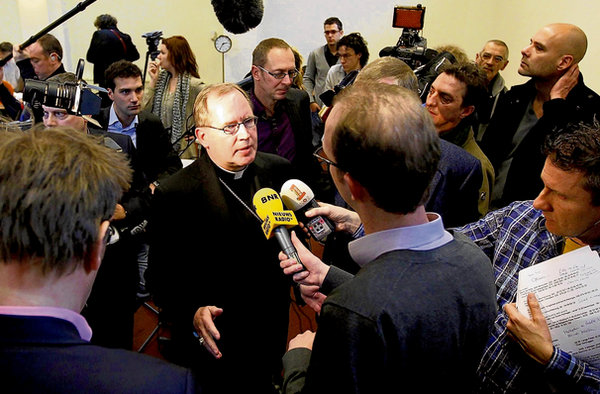 The NRC Handelsblad daily has now exposed that at least ten teenage boys were surgically castrated 'to get rid of homosexuality' through the Roman Catholic Church in the 1950's. These data are new and have not been included in the detailed inquiry by former Dutch minister Wim Deetman. He received 1,800 complaints of sexual abuse by clergy or volunteers within the Roman Catholic Church. It now seems that government inspectors were aware that minors were being castrated in Catholic institutions. The parents were not informed. It also emerged that the late Vic Marijnen, a former Dutch Prime Minister intervened to have prison sentences dropped against priests who were convicted of abusing children.
ALSO: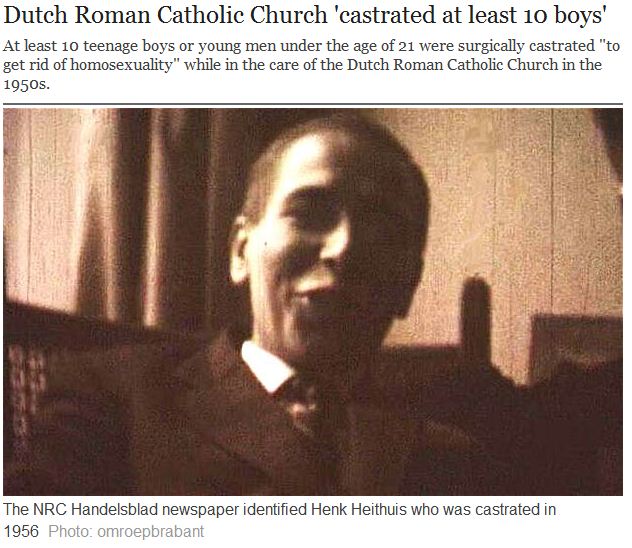 Evidence of the castrations has emerged amid controversy that it was not included in the findings of an official investigation into sexual abuse within the church last year.
The NRC Handelsblad newspaper identified Henk Heithuis who was castrated in 1956, while a minor, after reporting priests to the police for abusing him in a Catholic boarding home.
Joep Dohmen, the investigative journalist who uncovered the Heithuis case, also found evidence of at least nine other castrations. "These cases are anonymous and can no longer be traced," he said. "There will be many more. But the question is whether those boys, now old men, will want to tell their story."