Unbelievable, even by the biased MSM's standards.
Dutch newspaper captions Iron Dome as "firing rockets into Gaza"
If you think that media bias against Israel is bad in English-language media, check this out from the Dutch 
Volkskrant.nl
 site: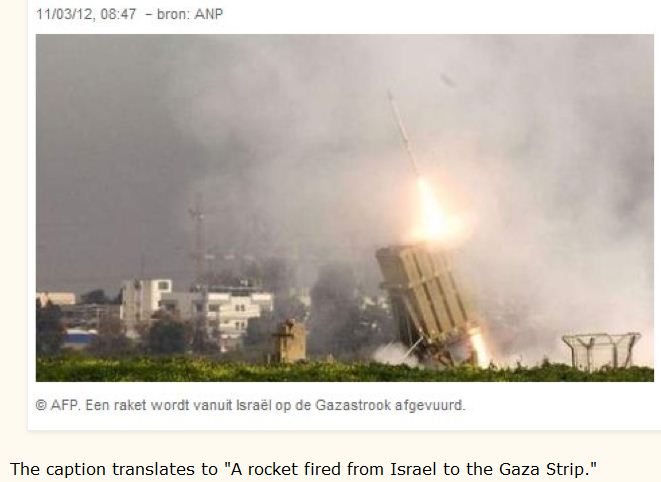 UPDATE: Commenter Vederso states the following:
De Volkskrant (dutch newspaper) is probably less biased then is suggested here. That's why I reacted. Ok, the subscript below the photo is just stupid. Here my translation of the small piece under the link;
Sunday, Israel carried out air attacks for the third day on the Palestinian Gazastrip. By which 17 people were killed and 28 wounded according to doctors in Gaza.
The violence started friday. Palestinian groups fired rockets and mortars on Israel, by which 4 people got wounded (confirmed) Since a number of reprisal attacks are under way.
The US and the EU called to both groups for calm. However Palestinian militants have sworn to revenge the death of one of their leaders. Israel warned to hit back as soon as rockets are being fired.
My comment now; the only thing De Volkskrant misses is, WHO got killed in Gaza?
According Missing Peace, they were 16 fighters and 1 civilian. (greetings)
ALSO:
In the meantime De Volkskrant corrected the subscript under the Iron Dome photo. See the Update on Elder of Ziyon.