Which tells you everything you need to know about Sweden.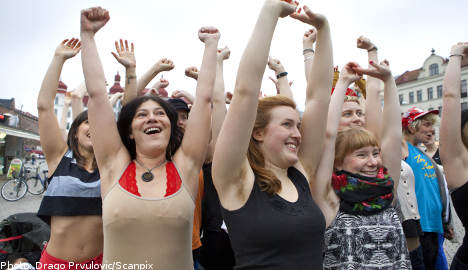 NOTE: With voting rules being rigged in such an overt way, everyone and his/her brother living abroad could be eligible to vote, and the Democrats wouldn't blink an eye.
Swedes back Obama in US election: survey
If Swedes could vote in US elections, President Barack Obama would handily beat either Mitt Romney or Rick Santorum, according to a new survey, which also reveals Swedes can't seem to get enough of US politics. Seventy-four percent of Swedes indicated they would vote for Obama whether the sitting Democratic president faced either of the top two Republican challengers, an online survey carried out by the YouGov polling firm shows.
And while less than half of US voters currently approve of Obama's record as president, 62 percent of Swedes say they are satisfied with Obama's performance. The YouGov survey also revealed Swedes' concerns about what might happen should the Republicans retake the White House in November 2012, with 52 percent indicating an Obama loss would have a negative effect on the world's security.