OOPS.
In official bi-lingual Finland, where Swedish (5.4%)  has equal footing with that of Finnish (94.6%), you know for a fact that the minority language speakers will do whatever they can to defend their status and perks. The country's political parties are currently struggling to find ways to save money to keep the highly over rated, and liberty infringing welfare state funded, and they've to taken to gutting the military.
Well it appears that the Minister of Defense, Stefan Wallin (Swedish People's party) has overlooked a lone Swedish garrison to cut, to match all the other garrisons closed around Finland. It has created a rather big stink in parliament, Wallin recently admitted that his decision to save it came from political, not military considerations.
YLE: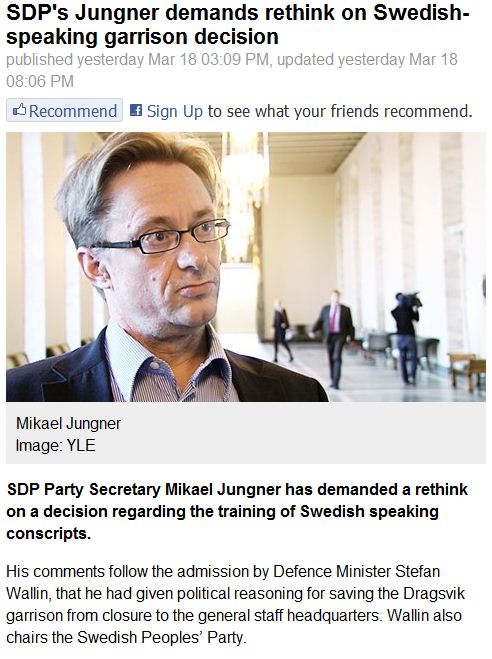 Jungner told the provincial daily Ilkka that Wallin had misled parliamentarians.

In Jungner's view, it was now essential to hear the views of the Defence staff on the matter and then for parliament to decide how to handle the training of Swedish-speaking conscripts

[…]

Meanwhile Finns Party chair Timo Soini said that Wallin should face a vote of no confidence in parliament over his actions in the Dragsvik garrison affair.