Terrorists attack a terrorist regime.
That much we know of. If the West allows this batch of terrorists to ride triumphant to victory in Damascus, we'll just be swapping labels and applying legitimacy to something that is as vile as the nest of vipers they just liquidated. And the West will pat themselves on the backs.
ALSO: 'Diplomat says Saudis are arming Syrian rebels'
[Report of Saudi armaments comes as Iraq tells Iran it will not permit arms shipments to Syria to cross its airspace.]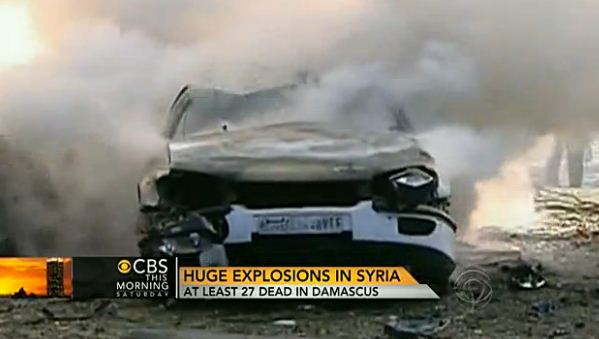 Two massive blasts rock Syria's capital
CBS/AP) BEIRUT, Lebanon — Two "terrorist explosions" struck security targets in the Syrian capital Saturday morning, killing at least 27 people and wounding 140, the state-run news agency said.
SANA said many of the dead were civilians, including children and senior citizens.
CBS News' George Baghdadi, who's in Damascus, reports many of the wounded were brought to a Red Crescent hospital.
CBS News correspondent Charlie D'Agata, from London, said many of the wounded were in critical condition.
Via:ZIP