They either do not care, or think that the bullets will never come down. Blaming the Israelis for his death just compounds their stupidity.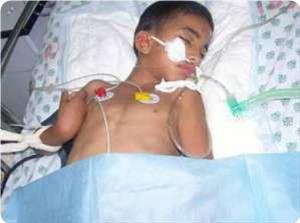 Palestinians: Gaza boy dies of wounds
March 14, 2012
GAZA CITY, Gaza Strip — A Palestinian boy accidentally struck by a bullet when militants fired in the air during a funeral died of his injuries Wednesday, family members and witnesses said.
Palestinian health official Adham Abu Salmia initially said that 8-year-old Barka al-Mugrahbi died of wounds sustained in an Israeli airstrike on Monday.
However, Israel's military said it did not carry out a strike in the area at the time.
The boy's relatives and witnesses later said the boy was marching in the funeral procession for a Gaza militant Monday when he was struck in the head by an errant bullet.
At the time, gunmen were firing in the air, they said.
On Tuesday, Israel and Gaza militants agreed to a truce after four days of cross-border fighting, though there have been sporadic violations. Not counting the boy, 25 Palestinians were killed in the violence.
Rocket and mortar fire from Gaza has persisted, and early Wednesday, Israel carried out a retaliatory airstrike.