The next time you read of 'nasty elements' within counterjihad groups, please keep this story in mind.
I would like to thank the TT commenter and tipster, Jacob_M, for his repeated attempts to try to tip the TT in the comments, but for some unknown reason his efforts were thwarted by an unseen bug. He had a major story that he was finally able to send me, but it was much too late last night to tackle. At the same time, the Baron over at GOV informed me that he was working on the same story, so all's well that ends well. Special thanks to all my faithful tipsters, your efforts have been, and always will be very appreciated.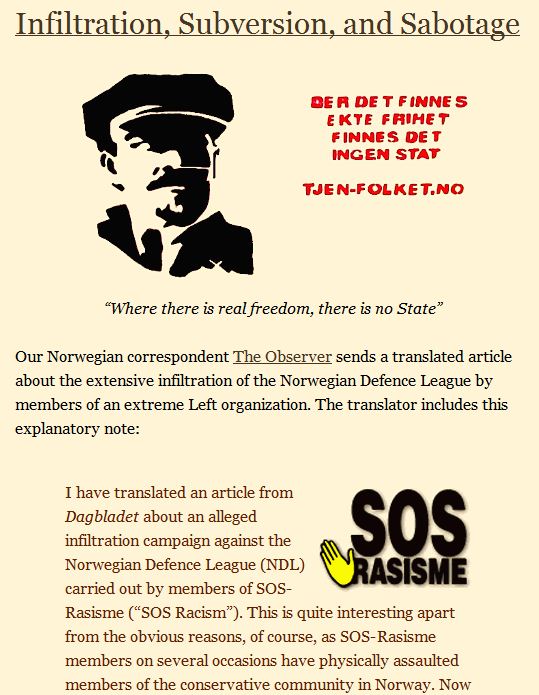 […]
The translated article from Dagbladet:
"Anti racists built up right-wing organization"

Several people with close ties to SOS-Rasisme built up the right-wing Norwegian Defence League, a former member of SOS-Rasisme claims.

(Dagbladet): On April 9, 2011, on the anniversary of Nazi Germany's invasion of Norway the anti Islamic and extreme-right wing organization, the Norwegian Defence league (NDL), staged a demonstration against the "Islamic occupation" in Oslo. At the time the organization had approximately a thousand members with strong anti-Islamic attitudes, including some well-known right-wing activists.

Activists from the violent and extremist mother organization, the English Defence League (EDL) had come to Norway to participate in the demonstration.

Led by anti-racists

Dagbladet can now reveal that the demonstration was planned by anti-racists. According to several independent sources the management of NDL was at the time heavily infiltrated by individuals with close links to SOS Rasisme, and who held leading positions in the NDL.