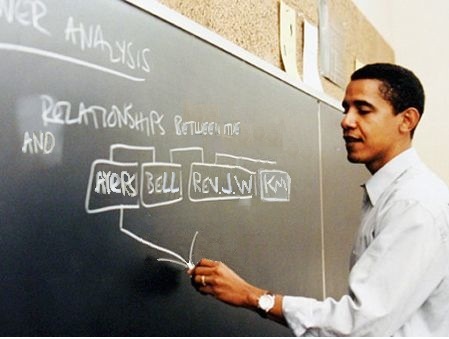 The peeling back of the onion layers of Obama's pal, Derrick Bell continues, this time his relationship with Nation of Islam radical, Khalid Muhammad. After reviewing this material folks, anyone with a modicum of decency and common sense has to come to the conclusion that the Barack Obama and his connections with nefarious types was never seriously vetted by the lib media. Not even close.
Derrick Bell spoke kindly of a man who called for the genocide of Whites, old and young of both sexes and even the crippled. This is a man that Derrick Bell should be appreciated. Derrick Bell is a man who Barack Obama said people should open their hearts and minds to. Now I'm not saying that Obama or even Bell would ever condone genocide, but it does speak to their willingness to create bridges with extremists to promote their ideological goals.
Via Patterico and Powerline blog:
Patterico: It's a short clip, just three minutes long, and it's worth your time. Here is a partial transcript:
We kill the women. We kill the children. We kill the babies. We kill the blind. We kill the crippled. We kill the [imitates a crazy person]. We kill 'em all. We kill the faggots. We kill the lesbians. We kill them all.
Muhammad goes on to explain, in detail, why women and children should be killed. The children, because they will oppress blacks when they grow up. The women, because they bear those children, and thus constitute the "military of the army manufacturing center."
We need to appreciate men like that while we've got them, eh, Professor Bell? Eh, President Obama?