Heikki Kauhanen was the journalist who interviewed terrorist leader, Mulah Krekar, in Oslo last December.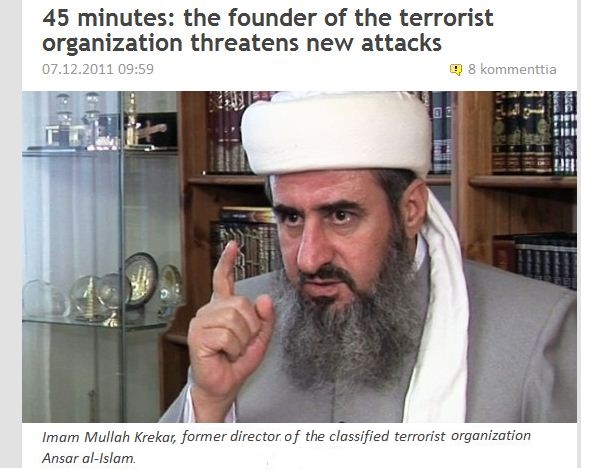 So Kurds in Finland trust the same journalist that Krekar trusted in Norway. Interesting. You can only wonder about their sympathies for the terrorist in Oslo, something tells me that their world views and values are not that different. The following article is taken from a Finnish Journalist union rag where Kauhanen retells his story of how he came to interview the terrorist Krekar.
NOTE: The most worrying thing in the article is that Krekar's fellow travelers are in fact in Finland as well. So it means that there are links between Krekar and the demo in Helsinki.
H/T: Vasarahammer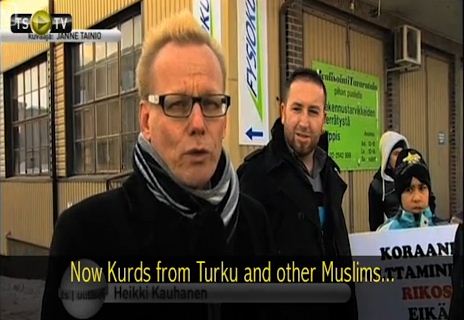 Trust opens doors
Turun Sanomat journalist, Heikki Kauhanen, has developed contacts with immigrants in the past decade. Last year, he was able to interview a wanted terrorist leader.
It's a November morning in an Oslo apartment building stairwell. Heikki Kauhanen nervous, for he has drawn up forty exceptional questions for an interview. Ahead is an unusual meeting. After careful consideration he has decided to wear normal work wear.
Kauhanen knocks on the door. It's opened by a bearded man dressed in gray Kurdish clothing. The former leader of the terrorist organization Ansar al-Islam, Mullah Krekar, does not just give interviews, but now he is leading teh Turun Sanomat journalist to the kitchen to make him breakfast.
Home atmosphere is tense, but Krekar, friendliness encourages the interpreter to joke. It is hard to believe that the chef is the founder of a terrorist organization that's a wanted persons by the United States at the same time as Osama bin Laden and Saddam Hussein.
"Krekar seemed very relaxed and gentle, like a father of an ordinary family, who is a bit anxious about being a prisoner in his own home. When the interview began, he changed completely and was full of hatred towards the Americans, "says Kauhanen.
[…]
In his spare time, he speaks more English than Finnish, and calculates that seven out of ten a text messages comes from non-Finnish friends and acquaintances.
Kauhanen became interested in the well-known Mullah Krekar, because the Kurdish people often spoke of their spiritual leader. In the end, he asked if they could help in organizing the interview. Coincidentally, the Mullah friends were just arriving to Turku.
"Krekar wanted to know what kind of journalist I am, and who is the interpreter. In October, we learned that we were welcome. "
Assistance in winning the trust of the Muslim leader may have been the fact that Kauhanen is a Muslim, and his knowledge of Islam is trusted Muslim circles.