Islamic Chattel.
UPDATE: Vlad spots the following subtle changes by the Toronto Star in the headline of the article, it used to read: "allows wife beating"…….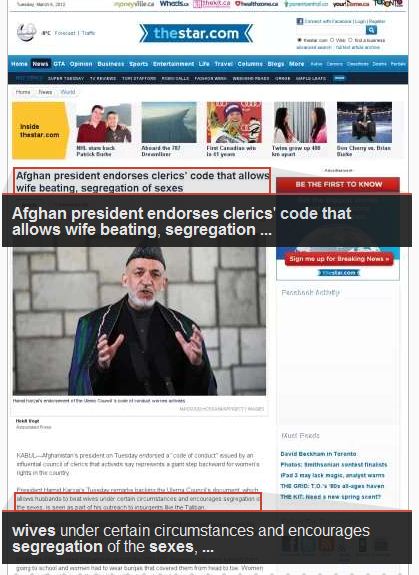 Now it's been changed to this: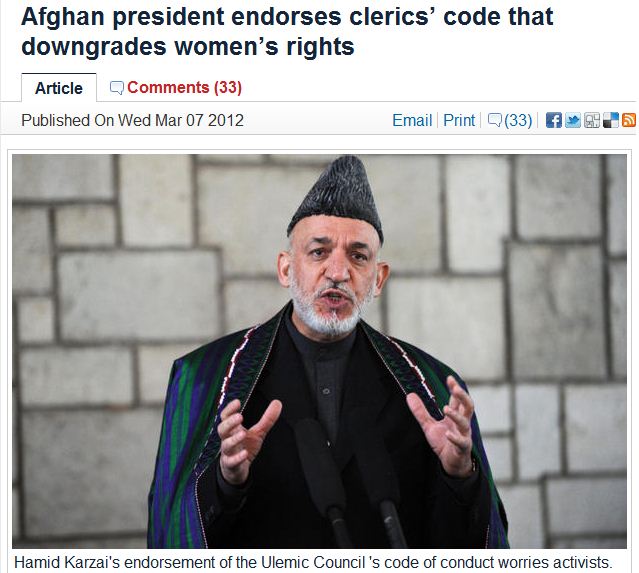 On the eve of International Women's Day, President Hamid Karzai has given Afghan women an unwelcome present: the message that they are second-class citizens.
In remarks made Tuesday, Karzai backed a "code of conduct" written by the Ulema Council of 150 leading Muslim clerics. It could dramatically restrict women's daily lives and threaten a return to the dark days of Taliban rule.
"Men are fundamental and women are secondary," the council said in its statement released last week, and later published on Karzai's own website.
The move appears aimed at enticing the Taliban into the peace process — but also gives pause to Canada and other countries that have supported efforts to advance women's rights in the land they fought to take back from the extremists.
"These reports are of serious concern to Canada," said a statement from Joseph Lavoie, press secretary to Foreign Affairs Minister John Baird. "We call on the Government of Afghanistan to uphold the provisions of Afghanistan's constitution, which establishes equal rights for men and women, and to respect its obligations under international law."
Since 2002, 158 Canadian soldiers have died in Afghanistan.