Benjamin Weinthal accurately captures the man.
In short, Breitbart was the raging bull of the World Wide Web but with a Lenny Bruce sense of humor and Saul Alinsky-style tactics, which he used to illustrate the soggy hypocrisy of a score of liberal-Left politicians, media outlets and organizations.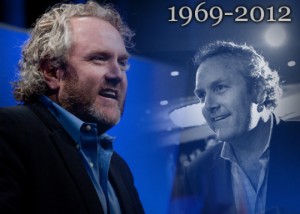 […] Breitbart not only carved out a new mixture of investigative journalism, combining the mediums of video and the microblogging website Twitter with huge scoops, he was slated to start a Big Jerusalem website to fight the seemingly endless mainstream media distortions of the Jewish state.
Adopted by a Jewish family in Los Angeles, Breitbart equated the preservation of liberty and freedom in the US with safeguarding liberties and security in the Jewish state. "Israel is in the right" and "If Israel goes, so will America," he said during a lively speech last year at a meeting of Republican Jewish Coalition in Beverly Hills.
In this speech, Breitbart said of Israelis: "I just don't understand how an inherently decent and free people could be the bad guy… This doesn't make sense to me…
I'm glad I've become a journalist because I'd like to fight on behalf on the Israeli people…I've been there. And the Israeli people, I adore and I love."