What else is a Palestinian usually known for?
Remember the Palestinians reeking terrorist murder and mayhem all over Europe over 30 years ago? Now a Parisian court has sentenced 3 of them in absentia to 30 years in jail. The Europeans pay lip service and fund these people to the tune of hundreds of millions of taxpayers money every year, it's from fear of the Arabs starting a new terrorist campaign and Gulf cutting off their oil.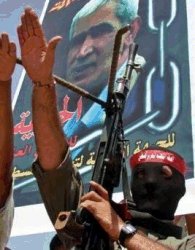 Three men sentenced over 1988 Greek cruise ship attack
A court in Paris has sentenced three ex-members of a radical Palestinian group in absentia to 30 years in prison for an attack on a Greek cruise ship over two decades ago. Nine people were killed in the attack.
Three men were found guilty in absentia at a French anti-terrorism trial on Thursday for their role in an attack on a Greek cruise ship more than two decades ago. The men, who are suspected ex-members of the Palestinian group Abu Nidal, were each sentenced to 30 years in prison.
On July 11 1998, at least one gunman on the City of Poros cruise ship opened fire on passengers as the ship was returning to Athens after a one-day cruise, before throwing a grenade and a fire bomb. Nine people, including three French citizens, were killed and dozens more were injured.
"The message from this trial is that French justice never gives up on those who commit terrorist acts," the victims' lawyer Francis Szpiner said.
Lebanese-born Adnan Sojod was convicted of murder and attempted murder after being identified by some thirty witnesses as the main shooter. Meanwhile Abdul Hamid Amoud and Palestinian-born Jordanian national Samir Mohammed Ahmed Khaidir were convicted of conspiracy to commit murder and conspiracy to attempt murder.