Remember, the same kind of perps did the same to Tommy Robinson.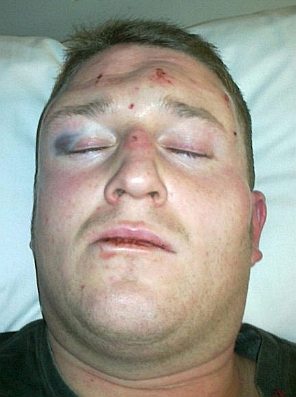 And to this WWII veteran
The TT reported the other day on this violent hate crime by 'Asians' (read= marauding Muslims) on this young kid, here's an update to the story courtesy of WTD.
H/T: WTD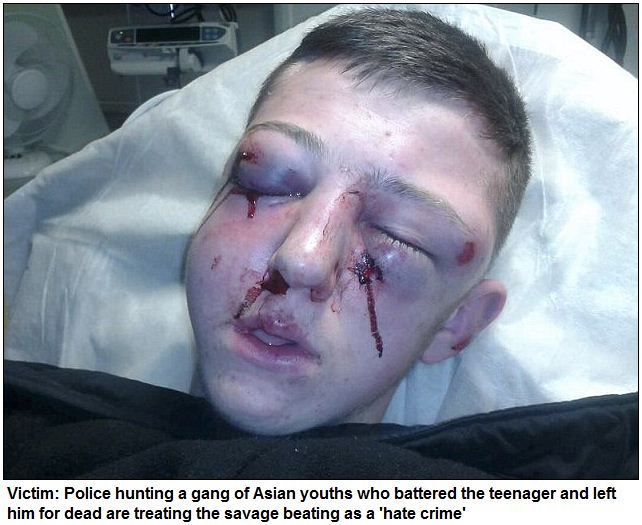 Also read:
[The driver is described as being an Asian man with stubble.]
Teenage boy, 17, arrested over 'race hate' attack on trainee baker Daniel Stringer-Prince in Hyde
February 09, 2012
Next A teenage boy has become the second person to be arrested after a trainee baker was left fighting for his sight after a suspected race hate attack.
Daniel Stringer-Prince, 17, was attacked by a gang of men as he walked through Hyde town centre with his best friend.
He was left with a fractured skull, fractured cheekbone and two fractured eye sockets after being kicked and punched as he lay on the ground.
Daniel will undergo surgery next week to try and repair the damage which has robbed him of vision in his right eye. His friend, Kavan Brown, also 17, had his nose broken in the attack on Nelson Street.
Late on Monday night, a 21-year-old man was arrested on suspicion of causing grievous bodily harm with intent. He remains in police custody for questioning.
And police investigating the attack have now arrested a 17-year-old boy on suspicion of causing grievous bodily harm with intent. Anyone with information should call Tameside CID on 0161 856 9250. Alternatively, contact the independent charity Crimestoppers, anonymously, on 0800 555 111.
NOTE: This guy made a lucky escape, or his face would have been bashed in as well.