Gee, it's got to really be bad in Syria if the terrorists are pulling up the tent stakes.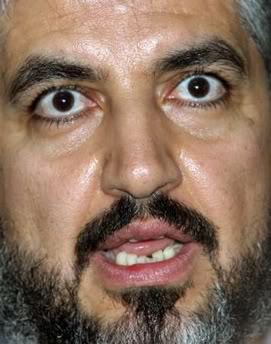 Report: Mashaal temporarily moves Hamas HQ to Qatar
Palestinian sources say terror group leader won't return to Damascus at this time due to volatile security situation and to avoid row with Muslim Brotherhood
Elior Levy
Published: 02.09.12, 17:57 / Israel News
Hamas Politburo Chief Khaled Mashaal will not be returning to Damascus at this time and is expected to temporarily carry out Hamas activities from Qatar, Asharq Al-Awsat reported Thursday.
Mashaal was quoted by the London-based Arabic newspaper as saying he cannot receive visitors in Syria due to the volatile security situation there. The Hamas leader mentioned that last January he was forced to meet Swiss envoy to the Middle East Jean-Daniel Ruch in Cairo because the diplomat refused to visit Damascus.
Asharq Al-Awsat quoted Palestinian sources as saying that most senior Hamas operatives have already left Syria, adding that the Islamist group's leaders do not plan on returning to Damascus at this stage, in part because the Muslim Brotherhood, which is linked to Hamas, has a key role in the uprising against President Bashar Assad.