It shows just how far the West has sunk, allowing such fomenters of hate, murder and extremism a platform that offers them the credibility they seek.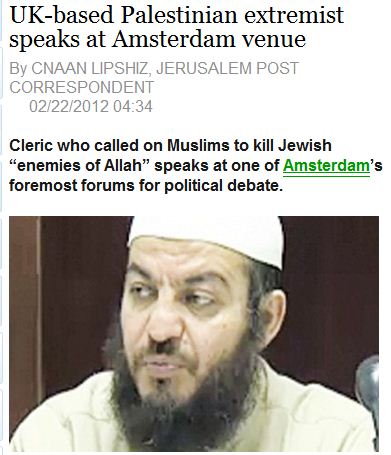 AMSTERDAM – A Palestinian cleric who called on Muslims to kill Jewish "enemies of Allah" spoke last week about Islam in Europe at one of Amsterdam's foremost forums for political debate.
Haitham al-Haddad appeared there on Thursday night at the invitation of a student association of a major Dutch university.
"Islam became part of the landscape of Europe. Non-Muslims cannot dictate what Islam is," Haddad – a Saudi-born Palestinian based in London – told the crowd at De Balie, a privately owned cultural and political institution in central Amsterdam.
"We're very happy that you've agreed to talk to us in a setting like this with all the press present," the director of De Balie, Youri Albrecht, told Haddad.
"You've had a long day, so a warm welcome, I would say, to Mr. Haddad."
De Balie, situated at what used to be Amsterdam's district court, often hosts public readings and debates with dignitaries and official guests of the Dutch Foreign Ministry. In November the ministry hosted Dr. Shirin Ebadi, the Iranian human rights activist and 2003 Nobel Peace Prize laureate, at De Balie.
"The best role for women to play is to be good mothers, supporting the family and supporting society through this. We are suffering from women who are abandoning their children or women who are following media," Haddad also said at De Balie.