It's because she wants to be Western, choose her own soul mate, live a normal life like all of  her peers. Islam, if it's taken very seriously by its adherents, is indeed supremacist ideology.
H/T: Fjordman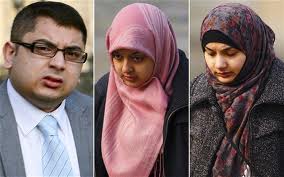 Muslim teenager attacked by brother and sisters for kissing white man
A Muslim teenager was kidnapped, beaten and threatened with hammers and knives by her brother and sisters after kissing a white man, a court heard yesterday.
Shamima Akhtar, 18, was bundled into a car, called a whore and a prostitute and had her waist-length hair cut to her neck by her two older sisters, Nadiya, 25, and Nazira, 29, and brother Kayum Mohammed-Abdul, 24.
They had "screeched" in the car park of a restaurant in Basingstoke, Hampshire, when they saw her kissing Gary Pain on April 1 last year as she celebrated her 18th birthday, Winchester Crown Court was told.
An "extremely aggressive and threatening" Mohammed-Abdul grabbed Mr Pain by the throat as Miss Akhtar was "firmly escorted" to the car and thrown in, Peter Asteris, prosecuting, told the jury.