Just after the football massacre happened, the TT was in a discussion with other bloggers   where it was mentioned that it could very well be a Muslim Brotherhood operation, in order to give them the casus belli needed to take complete control over Egyptian society. Well….now we see them actually calling for it, so you make up your own minds. Coincidence?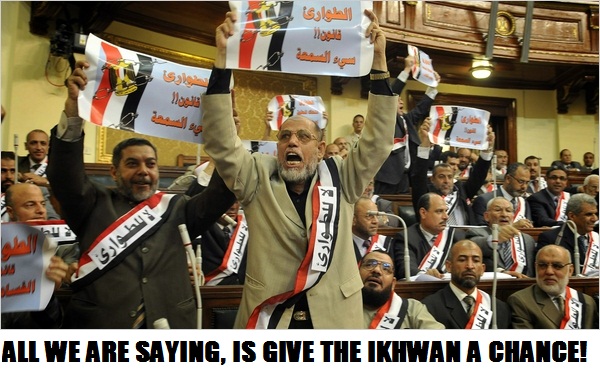 Egypt's Brotherhood says it should govern
A spokesman for Egypt's Muslim Brotherhood which now dominates parliament called on Thursday for the caretaker cabinet to be sacked and replaced with a Brotherhood one after deadly football riots.
The Brotherhood's Freedom and Justice Party, which won almost half of parliament's seats in elections over November and December, had said it would work with the military-appointed cabinet for a transitional period.
But the Brotherhood's spokesman Mahmud Ghozlan said the February 1 riot at a football stadium in the Mediterranean town of Port Said, which left more than 70 dead, showed that the government had failed to manage the country.
The incident "proved that the cabinet has failed in administering the country," he told AFP.
"If this happens, the party that won the most votes is best suited" to form a government, he said in response to a question on whether the Brotherhood's party should form the cabinet.
The Brotherhood was the most organised opposition movement during president Hosni Mubarak's rule, which ended with a popular uprising that toppled him a year ago and ushered in military rule.
Since then, the Islamist movement has in turn cooperated with the ruling generals and opposed them over such matters as a military role in drafting a new constitution.
But it has also opposed sometimes deadly anti-military protests, saying Egyptians can express their grievances through the parliament it dominates.
H/T Zip